Jonathan Agnew column: South Africa have edge in brilliant final Test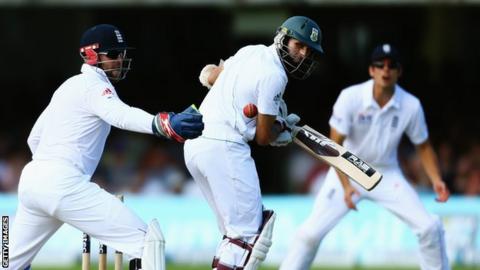 South Africa still hold the upper hand in the third Test at Lord's.
The third innings of a Test that is in an even position - such as here, where England led by only six runs on first innings - is always fascinating because both sides have pressure on them.
The batting side want to shore up their position and ensure they are not bowled out for a low score and gift the other side a chance to win.
Conversely, the bowling side can quickly slip into defensive mode because they are worried about the runs they will have to chase.
It's a fascinating game of cat and mouse and another reason why this is a brilliant Test - we've had everything. It's been an aggressive and very competitive match, but one played in good spirit.
Again, it's such a shame we're only having
England have work to do in the morning. They will have wanted South Africa at least four down at the close of the third day's play - to put pressure on the batsmen still to come.
England might hope to chase 250-260. Although it is still a decent pitch, you would not want to be chasing more than that.
They must regroup in the morning and try to get among the wickets. But unless South Africa lose quick wickets, these even matches usually favour the side batting third.
At 50-2, there was a bit of a wobble for South Africa, but they have such experience in Jacques Kallis and Hashim Amla.
They had some luck - Amla was dropped by wicketkeeper Matt Prior on two and, with his method of getting to the off side, survived some lbw shouts off the same bowler, and Kallis popped up a chance off Graeme Swann that just went past James Taylor at short-leg.
But they played very confidently, and Kallis in particular recognised the importance of scoring some runs to force England back on to the defensive.
Even though England can take heart from how flat the pitch is when they come to chase, they know it will not help them in bowling South Africa out.
Also, because South Africa - 1-0 up after victory in the opening Test - do not have to win the game to win the series, England must chase wickets while not giving away too many runs.
The tail did well in earning England a slender first-innings lead of six, but perhaps the realistic chance of getting a first-innings lead went when Prior was dismissed.
I am not sure what he was thinking. He played so well up to when the second new ball was taken, doing everything right, then he must have thought he was going to get after it. Philander swung one away and, although it was in the slot to drive, it was a poor shot.
Stuart Broad batted well and Swann played smartly with good support from James Anderson and Steven Finn, both of whom showed bravery.
Finn was hit on the head and the ball was fizzing past his nose as South Africa roughed him up, but he showed plenty of guts.
Jonny Bairstow, who fell for 95, was ground down in the nineties - you could feel the pressure mounting on him. It was terrific bowling by South Africa, with Bairstow eventually playing across a straight one.
However, he showed he possesses the essentials for scoring runs in Test cricket. He was very disciplined, leaving the ball well and playing the shots he can. His chance will come again because that was a very encouraging innings.
This seems to be the case every evening, but so much rests on the first session in the morning.
If England can get three or four wickets, they will pull the game back towards them. But South Africa are in no hurry to score runs because they know England, who must win to level the series and remain number one in the International Cricket Council's Test rankings, have to do the chasing.