Jonathan Agnew column: Dropped catches cost sloppy England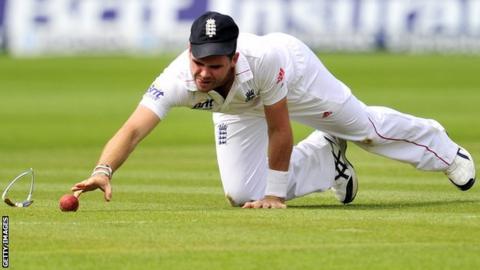 England face a huge task to save the final Test, let alone win it.
It is a task that is likely to be beyond them, as South Africa have outplayed them in this series and deserve to take over as the number one side in Test cricket.
Although England's bowlers kept their discipline on the fourth day, the difference between the sides was illustrated when James Anderson dropped AB de Villiers.
By my reckoning, that is the ninth chance that Andrew Strauss's team have put down in the series, which is an astonishing number over three matches.
It was a costly drop too, as Hashim Amla and De Villiers were able to build a fifth-wicket partnership of 95 at a time when England were desperate for wickets.
In the context of those drops have proved more problematic because of the way South Africa have batted.
The tourists have sold their wickets dearly, which can't always be said of the home side.
That is one of the reasons that you feel this chase will probably be out of England's reach, whereas if South Africa were faced with this target, they may have more of a chance.
One of the South Africa players who has put a high price on his wicket at Lord's has been Vernon Philander; he has had an outstanding game.
As well as removing Strauss and Alastair Cook late on the fourth day, his 61 in the first innings was vital to turning the momentum when England were having the better of day one, and his second-innings partnership with Jacques Rudolph turned the tide after Steven Finn ran through the middle order.
Finn bowled a fantastic spell. Figures of 3-14 in 29 balls can be match-winning, but it may have come too late in the day.
All the England bowlers stuck to their task, but I still have concerns over Stuart Broad, who looks to be down on pace.
Yes, he bowled that very good spell on the but I believe the time when he was rested earlier on in the summer might have had an adverse effect.
England may also have expected more than the four wickets that Graeme Swann has taken in this series, but he bowled well today, without a great deal of luck - he was the bowler when Anderson spilled De Villiers - and there remain questions over whether he is being troubled by that elbow injury.
Once again, Kevin Pietersen was in the headlines on Sunday, with some newspapers reporting what exactly was contained in those text messages sent to the South Africa players.
If those reports are true, then insulting Strauss is clearly not particularly nice, but giving the opposition tactical advice is something that will provide the greater obstacle to Pietersen returning to the England side.
When Pietersen finally returns to talk to Strauss and the England and Wales Cricket Board, it is likely they will demand to know exactly what was in those messages. It is highly likely that they have long since been deleted.
What does seem certain, though, after his on Sunday, and the World Twenty20 squad announcement on Tuesday, is that Pietersen will remain in the headlines.