England v South Africa: Strauss says England will bounce back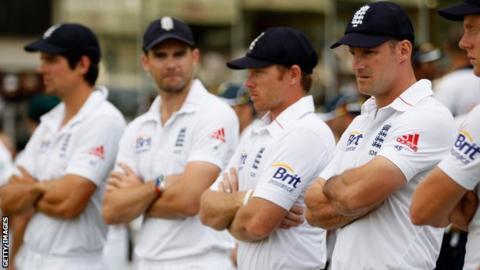 Captain Andrew Strauss believes England will top the Test rankings again, despite their 2-0 series defeat by new number ones South Africa.
The Proteas' thrilling 51-run win at Lord's sealed England's first home series loss since 2008.
The defeat was England's sixth in 11 Tests since they went top of the rankings last summer.
"I've got great faith in the talent and desire in the dressing room and we're going to need that," Strauss said.
"Maybe the tag of being number one hasn't sat as comfortably as it should have done.
"We've learned important lessons on how we should approach it in the future but our first priority is to get back in that situation."
Chasing an England-record 346 to win and resuming on 16-2, the hosts attacked throughout the final day and, when Matt Prior and Graeme Swann shared a rapid eighth-wicket stand of 78, an improbable victory looked increasingly likely.
But Swann was run out for 41 and Vernon Philander took two wickets in two balls to seal South Africa's victory in a
"When Prior and Swann were together I thought the chase was getting into the realms of possibility," Strauss, who was playing his 100th Test and 50th as captain, added. "If they'd put on another 20 or so then it would have looked like a fairly even contest.
"But South Africa definitely played the better cricket over the course of the three Test matches.
"We're bitterly disappointed but I can't fault the commitment, hunger and desire that everyone showed in this game.
"It was a fantastic effort but South Africa were just a bit too good. They have outplayed us in the course of this series and we have to find out why that is."
Prior, who kept England's hopes alive with a thrilling 73, was named as their man of the series.
"It almost hurts more when you get that close and to just fail to get over the line is very disappointing," the wicketkeeper said.
"We know that we have not lived up to our standards in the field and that is disappointing as it is something we pride ourselves on.
"The only thing now is to go away and put the time in off the field and try and get back to number one in the world."
The build-up to the final Test was dominated by the controversy surrounding Kevin Pietersen, who was dropped for sending text messages reportedly criticising Strauss to members of the South Africa team.
Strauss claimed the Pietersen issue did not affect England's performance and that talks to resolve the dispute will not take place in the near future.
The 35-year-old said: "It was a big thing in the build-up to the game but, in a tight, absorbing Test, it wasn't something that crossed our minds.
"I don't think anything will be happening straight away. The issues that need to be resolved will take a while and we'll be looking to do that away from the public eye."