Jonathan Agnew column: South Africa have given England a lesson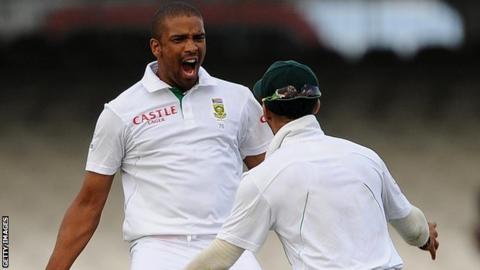 South Africa totally deserved to win this series, which took them above England to the top of the International Cricket Council's Test rankings.
They have been the better team in every department and I was very impressed, more so than I thought I would be.
There have been times when I don't think I have seen the best of South Africa, but I have this time.
They have given England an exemplary lesson in how to play Test cricket well. They have batted long, scored at a decent rate and sold their wickets dearly, which is critical. They even found a clever way of dealing with off-spinner Graeme Swann by batting outside off stump.
South Africa's bowling has been extremely disciplined, they have a balanced attack because Jacques Kallis gives them that all-round option, and they are terrific in the field. They looked very, very good.
They were well prepared and very keen to get back to number one. This series might even have been 3-0 because they could have won the too.
Graeme Smith is much more confident as a captain these days than he was when he first came to England, while coach Gary Kirsten deserves a lot of credit too. He worked wonders with India and is doing good things with South Africa. They will be hard to knock off their perch.
I liked England's approach on the fifth day of the final Test - they wanted to go down fighting, rather than clinging desperately to the wreckage. But it is disappointing that they have not been at their best in this series.
The story for England has been too many dropped catches. Their bowling was not as good as it could have been and, bar the odd good innings, the top order have not got the runs they needed.
Have England not played well or have South Africa not allowed England to play well? South Africa have not made England drop catches but, for instance, when Jonny Bairstow was on 95 on Saturday, he was squeezed out by brilliant bowling.
I think England's bowlers lost a lot of confidence at The Oval, wondering why they were not getting the movement South Africa were.
Scoring 637-2 got South Africa going in the series, and it was horrific for England. If you win the first match of a three-match series, it is hard for the losing team to come back.
This series will also be remembered for what happened with Kevin Pietersen, a situation which is still unresolved. It is pretty obvious that things haven't been good in the dressing room.
We will remember Pietersen's brilliant 149 at Headingley, but we will also remember everything that came after that. My memories of this summer will be Hashim Amla batting, Dale Steyn bowling and Kallis catching.
However, this gives England an opportunity to take a deep breath and take stock because there are issues that need to be resolved - not just around Pietersen, but one or two other things within the team. Are there some cliques?
Now they have lost that number one spot, it is a chance for Andrew Strauss to look at his position. I am sure he will carry on for a while, but captains who lose series do tend to think about stepping down.
While I expect the England hierarchy would want him to continue, he has had a disappointing series with the bat and, with captains of his age, you never know how many series they have left.
England will want him to go to India this winter, and I hope he does, but they have to work out a way of beating India.
They have at least a month to think these things through, while Strauss has not got to pick up a bat until November if he does not want to. A break will do them - and him - good.
It is really tough at the top of Test cricket, but we must guard against the game being dominated by the powerhouses of England, South Africa, Australia and India. A four-horse race would be a worry.
I like to think that part of the reason England played like they did on Monday was because the number one ranking was at stake. The rankings are relevant because they give context to Test cricket.
With Australia hosting South Africa in November, India facing England at the same time, Australia going to India next spring and two Ashes series coming up in 2013, the ICC mace could be covering a lot of air miles in the next two or three years, which can only be good for the game.