England's turbulent year at the top of the Test rankings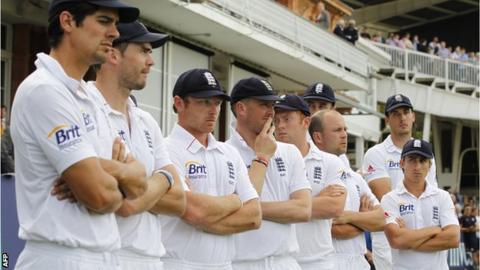 England's 2-0 series defeat by South Africa brought an end to their spell at number one in the world Test rankings, a year when they lost six of the 11 matches they played.
Here, BBC Sport takes a look at England's tumultuous year on top of the world.
Spun out - Pakistan 3-0 England (UAE)
England arrived in the United Arab Emirates having not played Test cricket in the five months since they whitewashed previous world number ones India 4-0.
Despite the hiatus, and conditions that were likely to favour the 'home' side, Andrew Strauss's side were favourites to win a series where bowlers on both sides were expected to struggle.
What followed was a series of woeful batting displays by the tourists, who were completely bamboozled by Pakistan spin pair Saeed Ajmal and Abdur Rehman.
England were bowled out for 72 in the second Test, sealing their first series defeat for three years on the way to only their seventh ever losing whitewash.
What they said:
Captain Andrew Strauss: "There will be a little bit of soul-searching to do but I'm a great believer in the adage you don't become a bad side overnight and there's still a huge amount of quality in our side."
Coach Andy Flower: "Looking back now, I don't think we were ready."
Former England skipper Michael Vaughan: "England weren't technically good enough or strong mentally."
BBC cricket correspondent Jonathan Agnew: "It's certainly been a wake-up call for anyone in the England team who thinks they have the right to the number one Test ranking, because they haven't."
Lessons learned? - Sri Lanka 1-1 England
England, having dropped Eoin Morgan in favour of the all-round ability of Samit Patel, again crumbled to defeat in the first Test in Galle.
A Jonathan Trott century had the tourists in with a shout of chasing 340 to win, but they lost their last six wickets for 31 runs. In truth, though, the defeat can be attributed to being bowled out for 191 in the first innings.
Needing to win the second Test to preserve their number one ranking, England's batsmen, led by Kevin Pietersen's sparkling 151, finally performed. Backed up by Graeme Swann's 10-wicket haul, Strauss's men ended a difficult winter on a high.
What they said:
Strauss: "We're still disappointed with the winter but we've learnt some valuable lessons."
Pietersen: "Nobody can replace Andrew Strauss because there's no-one else who could do the job he's doing. He's a great captain."
Swann: "To stay at the top is important - and will give us a big lift for the home series against West Indies and South Africa."
Windies blown away - England 2-0 West Indies
As expected, England comfortably dealt with West Indies and, perhaps more importantly, skipper Strauss answered questions about his form with hundreds in the wins at Lord's and Trent Bridge.
However, Jonny Bairstow, the latest man to be given a chance at number six, failed to impress and there was controversy when James Anderson and Stuart Broad were rested for the rain-ruined Test, with the back-up attack dominated by Tino Best, who hit the highest score (95) by a number 11 in Test history.
In addition, Pietersen announced his retirement from limited-overs internationals midway through the series.
What they said:
Strauss: "Over the course of the three matches, there were a lot of things to be very happy about but we are aware that we have to improve our standards a bit before the South Africa series starts."
Agnew: "I just hope we don't look back at this game [the third Test] in a year's time and say 'that was the start of where things didn't go quite so well'."
West Indies legend Viv Richards: "England are well led by Andrew Strauss and this is a team which has the potential to create a legacy."
Pummelled by the Proteas - England 0-2 South Africa
The marquee series of the year looked to be starting in favour of the home side when a South Africa team that was accused of being under-preparedlost wicketkeeper Mark Boucher to a horrific eye injury.
However, that was to be the Proteas' last major setback of the tour, as they began the series by hammering England at The Oval, thanks mainly to Hashim Amla's 311 not out.
England responded by omitting Swann for the rain-ruined second Test at Headingley, a match they may have lost had it not been for Pietersen's scintillating 149.
However, that innings proved to be the start of huge problems off the pitch, with Pietersen's threat of retirement beginning a chain of events that led to revelations of him texting South Africa players, allegedly with advice on how to get Strauss out, and being left out the final Test at Lord's.
On a thrilling final afternoon in the third Test, England came close to chasing 346 to square the series, but South Africa deserved both their 2-0 win and new position at the top of the world rankings.
What they said:
England wicketkeeper Matt Prior: "South Africa beat us at our own game - they got the ball moving, they batted long and they took their catches."
Ex-England captain Geoff Boycott: "They've out-bowled us, out-batted us and out-caught us."
Strauss: "I won't look back on this year as world number ones with particular fondness."
What happens next?
For a side that has lost six of their last 11 Tests, a trip to India, where England have not won a series since 1984-85, is a daunting assignment.
After that come home and away series against New Zealand, with arguably the biggest period in Ashes history following. Ten Tests - five in England and five in Australia - will be crammed into six months.
In the short term, though, England have the Pietersen issue to deal with as well as the future of Strauss. The 35-year-old looks certain to hands over the reins in the next 18 months, and a poor tour of India could hasten his departure.
Prior: "The only thing now is to go away and put the time in off the field and try and get back to number one in the world."
Agnew: "Now that they have lost that number one spot it's a chance for Andrew Strauss to look at his position. I'm sure he'll carry on for a while."
Strauss: "We've learned important lessons on how we should approach being number one in the future, but obviously our first priority is to get back in that situation."