Sussex must hold nerve on T20 finals day - Robinson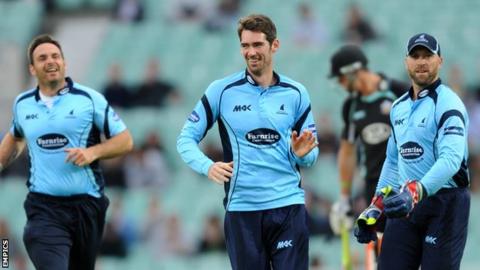 Sussex cricket manager Mark Robinson says his side must hold their nerve to be successful on FL t20 finals day.
The Sharks, who only lost one of their group games, face Yorkshire in their semi-final at Cardiff's Swalec Stadium on Saturday.
He told BBC Sussex: "It's a one-off, do-or-die game. All that has gone on before, to a degree, goes out of the window and anything can happen.
"It is about getting the mental side right and handling those nerves."
Robinson is optimistic over Sussex's chances of success following their batting performances so far in this year's competition, with five players averaging over 30.
"We know we've got individuals that can win a game by themselves," he added.
"The likes of Matt Prior, Luke Wright, Chris Nash and Scott Styris have showed that.
"All our top six, who've got an opportunity to bat, have taken it.
"That's what's been most pleasing thing this year. We felt we've had more depth in our firepower than we've ever had before."
After quarter-final exits in the last two seasons, Robinson is thrilled to be back in the last four for the first time since Sussex won the tournament in 2009.
"They are special days in the calendar and finals day is one every player looks forward to," he continued.
"When we haven't been there, I've looked from afar with jealousy.
"When we didn't make it the year after we got beaten [by Kent, in the semi-finals in 2007] I was sour, looking at what had gone wrong.
"You put a lot of work in and dream of days like what we'll encounter at Cardiff on Saturday."
Meanwhile Robinson is also looking at the chance of securing a place in the Champions League Twenty20 tournament, to be staged in South Africa in October.
Sussex took part in the inaugural competition in 2009 and will be granted a place in the qualifying stages if they reach the final on Saturday.
"The lure of what happens at the end of finals day makes it even more exciting," he said.