Sachin Tendulkar leads tributes to retiring VVS Laxman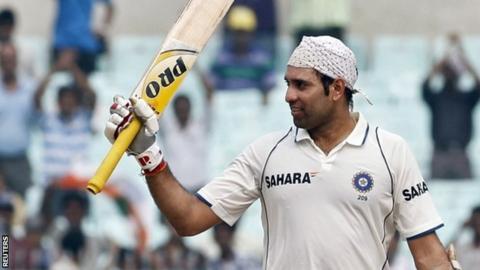 India legend Sachin Tendulkar has led the tributes to VVS Laxman after the man dubbed "very very special" because of his initials and playing record retired from international cricket.
Tendulkar batted for many years in the India middle order alongside Laxman, whose full name is Vangipurapu Venkata Sai Laxman.
They were due to play against New Zealand in India's upcoming Test series before Laxman announced his retirement on Saturday.
Tendulkar wrote on Twitter: "When I walk out to play in Hyderabad I will feel a deep void. A void that can never be filled. My dear friend VVS Laxman, one of the best players Indian cricket has seen and I have played with, will no longer be with me."
Laxman was part of a formidable batting line-up, alongside former skipper Sourav Ganguly, Rahul Dravid and Tendulkar, that combined to earn India many memorable wins in Test cricket.
Fans will never forget the 2001 Kolkata Test against Australia when Laxman helped India fight back after following on to win the match - only the third side in history to do so.
Laxman scored 281 and shared a partnership of 376 with Dravid as India snatched victory from the jaws of defeat.
Many pundits, including Ganguly, credit the Kolkata Test as India's watershed moment in cricket, with the side eventually ascending to the top of the Test rankings.
"That innings had a big impact on Indian cricket. It had given us a huge sense of relief and made us have belief in ourselves that we're not behind. Since then, we never looked back as Indian cricket kept improving," Ganguly told PTI news agency.
Cricket writer Ayaz Memon wrote on his Twitter page: "Not just for skill & mastery but also for impact on a Test VVS's 281 vs Oz at Eden Gardens in 2001 is the greatest innings by an Indian."
Laxman may not have had Ganguly's flamboyance, Dravid's subtlety or Tendulkar's genius, but he had the style that made the cricket bat look like a paint brush in the hands of a master.
Cricket pundit Harsha Bhogle wrote on his Twitter page: "I was privileged to watch and know an artist over the years. What a batsman but also what a team player."
Apart from his style, Laxman will also be known for his humble nature. In an era when cricketers are treated like rock stars in India, Laxman was a breath of fresh air. He rarely gave interviews and kept himself away from controversies throughout his career.
"VVS is one of the finest human beings to have played cricket. One of the main pillars of the team and a true friend. Words are not enough," India opener Virender Sehwag wrote on his Twitter page.
Off-spinner Harbhajan Singh tweeted that Laxman was not only "an amazing cricketer" but also "surely the best human being I have ever met".
"What more can I say, he has been an incredible batsman, as you all are aware, and a fabulous, fabulous individual. I have no hesitation in calling him a legend of our time," swing bowler Zaheer Khan told the Deccan Herald newspaper.
Australia captain Michael Clarke congratulated Laxman on an "amazing career".
New Zealand skipper Ross Taylor summed it up by saying players like Laxman can never be replaced. "Maybe they don't make sportsmen like him anymore," he added.
BBC Monitoring selects and translates news from radio, television, press, news agencies and the internet from 150 countries in more than 70 languages. It is based in Caversham, UK, and has several bureaux abroad. For more reports from BBC Monitoring, click here