Michael Rippon hopes to cap his rise with Sussex trophy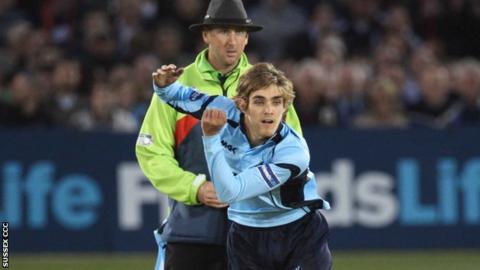 Friends Life T20 finals day
Venue:

Cardiff

Date:

Saturday, 25 August

Times:

11:00 Sussex v Yorkshire; 14:30 Hampshire v Somerset; 18:45 Final

Coverage:

BBC Radio 5 live, BBC local radio & online from 10:45 BST
Michael Rippon is looking to cap a remarkable rise with success for Sussex at Twenty20 finals day in Cardiff this weekend.
The 20-year-old left-arm spinner has risen from relative obscurity to play in the Sharks' last five matches in the tournament and help them to the last four.
On his debut at the end of June, Rippon took figures of 4-23 to help the Sharks to an 83-run win in their group match against Kent.
His sudden impact is underlined by the fact he had only signed an 18-month deal at Hove earlier that same day.
"Everything has happened quite quickly for me," Rippon told BBC Sussex. "I've only been here four months, and it feels like a dream actually.
"We've been playing so much other cricket that it hasn't really sunk in yet."
Sussex spotted Rippon during a training camp in South Africa in January while he was representing Cape Cobras.
"I was meant to be part of the Dutch squad but that fell through and Davo [Sussex coach Mark Davis] asked me to come here.
"I got here in April and initially it was a four-week trial. I did quite nicely and signed a contract.
"I then found myself playing against Kent on my debut and it went well for me.
"You look back and you are grateful. To perform on finals day would be a massive occasion for me."
Rippon says he has enjoyed his relatively short spell in Hove, working closely with Monty Panesar and Michael Yardy.
"In the beginning it was tough but Sussex is a really nice county," he continued.
"You've got the second-best spinner in the world [in Panesar] and last year I think Michael Yardy was the best Twenty20 spin bowler in the world.
"They've been through it all and it's lovely to feed off them; [to know] what to do when you're in pressure situations and how to handle pressure.
"I'm very fortunate to be in the hands of those two legends."
Having burst onto the scene with his four wickets against Kent, Rippon is hoping to have another big impact this weekend in Wales.
"I've never watched a finals day so I don't really know what to expect but the guys in the dressing room say it's a lovely occasion with jam-packed crowds.
"It's definitely a stage where you want to impress.
"I feel confident. I hear Cardiff takes a bit of turn so I'm looking forward to seeing what the pitch has to offer."
Rippon is optimistic of bringing the cup back to Sussex given that the Sharks, winners in 2009, have only lost one of their matches in this year's tournament.
"You've got to take it game by game and control the controllables," Rippon continued.
"If we play the way we have been throughout the competition, there's no reason why we shouldn't take the cup home.
"The batters have been outstanding, scoring 180-plus every game, and that really eases the pressure off the bowlers.
"To win the trophy would a dream come true."