Oval game was upsetting , says Welsh Dragons' Mark Wallace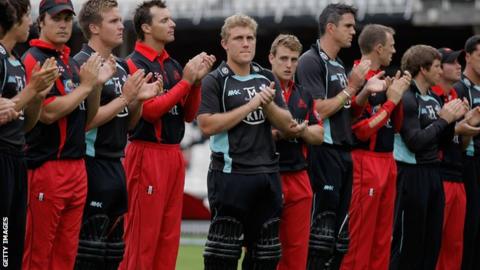 Welsh Dragons captain Mark Wallace says his side's Clydesdale Bank 40 match against Surrey at the Oval was an emotional occasion.
The match was the first meeting between Surrey and the Glamorgan side since Tom Maynard's death aged 23 in June.
Surrey won by 93 runs and Dragons captain Wallace admitted it had been a difficult evening for the players involved.
"Today was probably the most upsetting of all the things we've done," he said.
"In the direct aftermath of Tom's death people are still in shock and you don't necessarily have that outpouring of emotion.
"To drag it back up two months down the line, it really did affect us before the game.
"I certainly wasn't really at the races for about five or 10 overs and a few of the lads were really in pieces."
The match helped launch the Tom Maynard Trust in memory of the ex-Glamorgan and Surrey player, who died after being struck by a London Underground train in June.
A fundraising bike ride, which included Tom's father Matthew Maynard and former England all-rounder Andrew Flintoff, arrived at the Oval before the game.
"The people who did the bike ride have done a superb thing," Wallace added.
"It's great that the Tom Maynard Trust is up and running. It's obviously terribly said it's had to be put into place, but I think a lot of good will come out of it.
"The two sides - Glamorgan and Surrey - there will be a bond there certainly for the players of this generation who have gone through this together.
"I think there will be something for games between the two sides going forward."
Defeat at the Oval was the Dragons' latest loss in a disappointing campaign which will conclude against Nottinghamshire at Trent Bridge on Monday.
"We weren't really at the races," Wallace said of the defeat against Surrey. "They bowled very well and put us under pressure
"This side's a lot better than it's showing people at the moment and that's very disappointing.
"We're not a side that should be putting in performances like that and that's the frustrating thing. We're a lot better than that.
"But at the end of the day the performances are what you put out and we have to stand by those and we have to get better.
"We have to start putting in some performances. We've got a talented side and a side that's better than the results we're getting but we need to start doing it."