Cornwall win their first Minor Counties Western title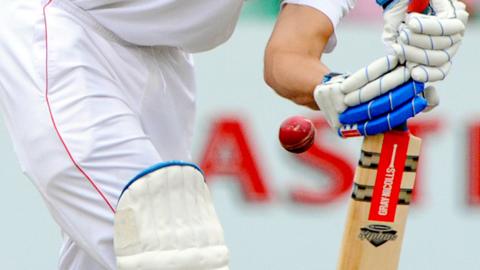 Cornwall's cricketers have made history by winning their first ever title in their 109-year history.
They clinched the Minor Counties Western Division crown after Oxfordshire beat their only rivals for the title, Wiltshire, by five wickets.
The Duchy will face Eastern Division winners Buckinghamshire in a four-day game at Truro from 9 September for the English Minor Counties title.
"It's a really proud moment for everyone," said captain Tom Sharp.
"All our names will be linked to that first championship," he added to BBC Radio Cornwall.
With Cornwall having they faced an agonising wait to see if Oxfordshire could beat Wiltshire.
And Sharp says after coming close since he took over the side a decade ago, he thinks this could be the first of many titles.
"In the last 10 years we've come really close a couple of times, three years ago we went into the last round top and were rained off for three days.
"I put it to the lads at the start of the season that we wanted to be more ambitious as a team, and not settle for top two or three finishes but push to win things.
"We're in a pretty good state as there's a group of players aged between 18-24 who make up most of the team.
"Those aged 23 and 24 have been playing for a few years so they've got that combination of youth and experience.
"There's no reason why the years ahead can't be good for Cornwall as well," he added.