Former Glamorgan captain Steve James wants Dragons shake-up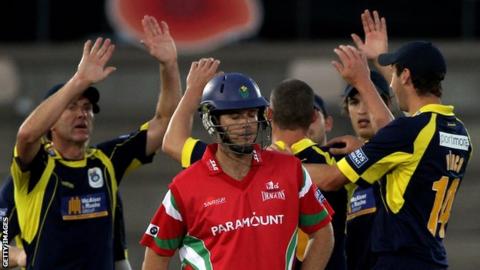 Former Glamorgan captain Steve James has called on the struggling county to introduce fresh faces into the team.
James' plea came after the Welsh Dragons sank to a 93-run defeat at the Kia Oval on Tuesday.
It was the latest in a series of poor Glamorgan performances in all three county competitions.
"It's probably time to see a few more youngsters," insisted the former England batsman.
"There are people who are playing every week and are under-performing every week.
"There comes a time when you have to introduce some new blood."
Glamorgan would argue that there were mitigating circumstances to the defeat at Surrey.
It was match fuelled by extra emotion as it was Tom Maynard's tribute match after the 23-year-old, former Glamorgan Surrey batsman who died in June.
But the Welsh county have struggled this season. They are second from bottom in both the LV County Championship and the CB 40 Group B.
As well as that the Friends Provident T20 campaign was also forgettable albeit that half of their games fell victim to the weather. They also finished second from bottom in that group.
In all Glamorgan have won seven and lost 14 out of their 26 completed matches, so far this season in all competitions.
The county have have made some steps to shake up up the side and dropped opener Gareth Rees ahead of the four-day match against Essex at Colchester.
They have also given given opportunities to the likes of seamer John Glover and off-spinner Andrew Salter.
But Glamorgan have not been helped by injuries to bowlers like James Harris, who missed the start of the season with groin problem, and Graham Wagg. He missed three months of the summer with a broken ankle.
However, captain Mark Wallace insists the county are not as bad as results would suggest.
"This side's a lot better than it's showing people at the moment and that's very disappointing," he said.
"We're not a side that should be putting in performances like that [against Surrey] and that's the frustrating thing. We're a lot better than that.
"But at the end of the day the performances are what you put out and we have to stand by those and we have to get better.
"We have to start putting in some performances. We've got a talented side and a side that's better than the results we're getting but we need to start doing it."