Worcestershire batsman James Cameron retires at 26
Last updated on .From the section Cricket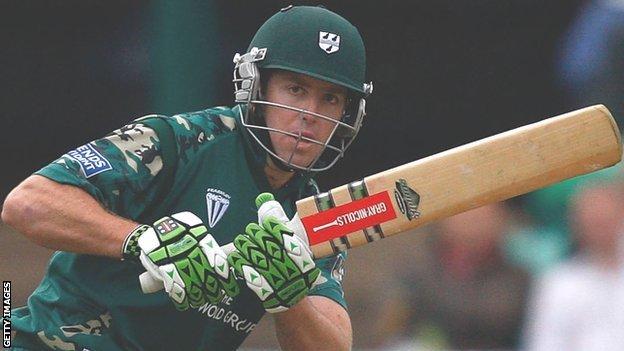 Worcestershire batsman James Cameron has decided to retire from county cricket at the age of just 26 - to pursue a new career in the City.
The Zimbabwean, in his third year with Worcestershire, arrived at New Road from Australian grade cricket in 2010.
But, despite being offered a new two-year contract by the county, he has opted to bow out with immediate effect.
"I have decided to retire from county cricket to pursue a career in financial services," said Cameron.
"It has been an extremely difficult decision but, after much discussion with both family and close friends, I feel that it is in my best long-term interests.
"I am sad to be leaving cricket and Worcester, as I have made many friends at the club, and we have achieved some very good things on the field over the last few years."
Cameron initially chose to pursue a career in first-class cricket after graduating from the University of Western Australia as a Bachelor of Commerce.
And he capped a successful first summer at New Road with his maiden first-class century, an innings of 105 against Sussex to help secure Worcestershire's promotion back to Division One of the County Championship.
But, after making 576 Championship runs in 10 matches in his first season, at 36.00, he has failed to reach the heights he expected of himself.
He averaged 26.27 in his second season (hitting 578 runs in 12 matches) but made just 300 runs in 11 matches this summer, at 21.43.
"James has been a valuable member of the squad since joining us in 2010," said chief executive David Leatherdale.
"And we were keen for him to extend his time with us.
"However, we fully understand he wishes to look at his long-term future outside cricket and he feels now is the right time to make this break."