Dimitri Mascarenhas warns England of difficult World T20
By Marc Higginson
BBC Sport
Last updated on .From the section Cricket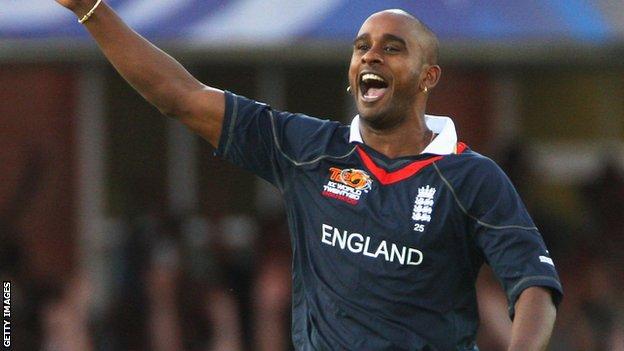 Twenty20 specialist Dimitri Mascarenhas has warned England will find it difficult to defend their World crown in Sri Lanka.
"England are banking a lot on their youngsters - people like Jonny Bairstow, Jos Buttler and Alex Hales," the Hampshire captain told BBC Sport.
"It is going to be tough for them, but they have got the talent."
Mascarenhas is one of England's most successful Twenty20 exports, having played for both Rajasthan Royals and Kings XI Punjab in the Indian Premier League, plus a spell with Otago in New Zealand.
And the 34-year-old led Hampshire to domestic Twenty20 success on finals day in Cardiff last month.
However, the all-rounder has only won 14 Twenty20 caps for his country - the last one coming against India in 2009.
"I think I could play a part, so I was disappointed not to make the squad," he said. "But I was not even in the initial 30-man squad, so read into that what you will.
"Hopefully the young lads they have picked can show the world their talent."
Mascarenhas believes India, Sri Lanka and Australia start as favourites to win the tournament, which starts on Tuesday and finishes 7 October, and says England are a weaker team without his former Hampshire team-mate Kevin Pietersen.
The 32-year-old was dropped for the third Test against South Africa after allegedly insulting Test captain Andrew Strauss in texts to the tourists.
"I think England will go OK but they will find it hard work at times," said Mascarenhas, who played for England in the 2009 World Twenty20.
"They have left out the best Twenty20 player they have got [Pietersen].
"I don't know what has been said, but hopefully they can get it resolved because KP is the best batsman in England in all forms of the game.
"If he wasn't there in the last tournament, England would not have won it. He was named player of the tournament, that says it all."
England batsman Eoin Morgan will be expected to play a major role in filling the absent Pietersen's shoes.
The Dublin-born left-hander did not play during the eight weeks he spent with Kolkata in the Indian Premier League earlier this year but still feels the experience will stand him in good stead in the World T20.
"Having played a small bit of IPL cricket has exposed me to conditions on the sub-continent and playing in front of 60 or 70,000 people, which is quite an experience," he said.
"Adapting to that has been as much of a challenge to me as it would be for anybody else."
He also reiterated his desire fight his way back into the Test side, even if that means missing out on IPL opportunities.
"Test match cricket has always been first and foremost for me and that remains the case," he insisted.