Shaun Pollock says South Africa Test domination will be "tough"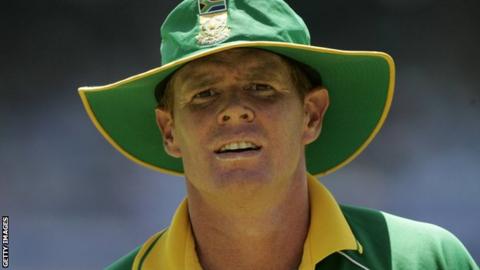 Former captain Shaun Pollock says it will be tough for South Africa to dominate Test cricket, despite the Proteas taking top spot in the world rankings.
South Africa's 2-0 win over England saw them replace Andrew Strauss's side, who had been number one for a year.
"It's going to be difficult when we go to the subcontinent," said Pollock.
"Leg-spinner Imran Tahir is learning his way and until he's settled it will be difficult to dominate."
Rankings are calculated from results over a three-year period so, although the win in England was only South Africa's fourth in their last 10 series, it is the Proteas' consistency - the have lost only one of their last 20 series - that sees them return to top spot for the first time since November 2009.
They travel to Australia in November, when defeat for Graeme Smith's men would see the Aussies climb to the top of the rankings.
"It's going to be hard, going to Australia later this year will be another big test," Pollock, who took who 421 wickets and scored 3,781 runs in 108 Test matches, told BBC Sport.
"We're playing in Brisbane, Adelaide and Perth, so that should suit our pace attack.
"But I don't know if one team will dominate Test cricket like the Australian side of the late 1990s and early 2000s did."
Pollock, 39, who retired from international cricket in 2008, also praised a South Africa side that outplayed England over the three-Test series.
With the thrilling 51-run win in the final match at Lord's the Proteas condemned England to their first home defeat since 2008, South Africa's last visit.
"They've shown that they can win all around the world," said Pollock. "They've got the ability and are a very settled unit.
"Being rated number one is obviously great but to come here and beat England, who were number one, to beat the team that's on the pedestal is the thing they'll enjoy the most.
"They are a mature team now and they are very well balanced. Sometimes you can look good on paper but not produce. The key is that they've been able to produce in the key moments."
The win at Lord's was Smith's 94th Test as captain, breaking the previous record held by Australia's Allan Border.
Smith took over as leader in 2003 from Pollock, who was handed the reins following the Hansie Cronje match-fixing scandal but lost the job after a poor World Cup on home soil.
As well as recognising Smith's influence, Pollock singled out the work done by former team-mate Gary Kirsten, who took over as South Africa coach in 2011 after previously leading India to both the top of the Test rankings and victory in the World Cup.
"He's obviously a calming influence," said Pollock. "He tries to do everything he can to bring the best out of the players and make them feel relaxed and focused on the job in hand.
"There's a lot of experience in this team so he doesn't need to reinvent the wheel, he just needs to make sure they are doing things properly."