Alec Stewart: Chris Woakes & Jonny Bairstow offer exciting future

By Alec Stewart
BBC Test Match Special
Last updated on .From the section Cricket44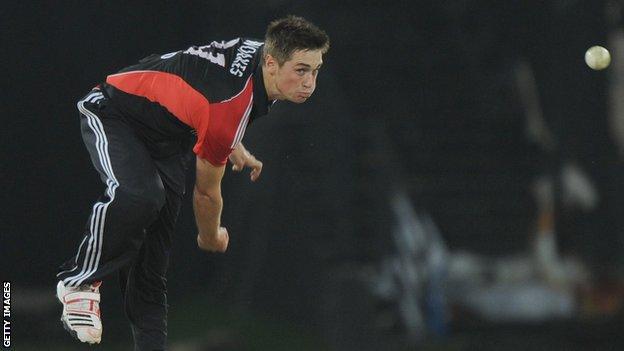 England's decision to rest Stuart Broad for the one-day series against South Africa has given Chris Woakes a chance and I am looking forward to seeing how the Warwickshire all-rounder performs if he is selected for the second one-day international in Southampton.
Ever since I first saw Woakes play for his county, he impressed me with his undoubted talent and attitude to his cricket and I have followed his career closely since. He is a bowling all-rounder but his batting in all forms of the game is developing very nicely and he is capable of batting at number seven.
He may only bowl a shade over 80 miles per hour, but so long as he does something with the ball and maintains good control and accuracy, there is no reason why he can't progress in all forms of the game at the highest level.
A few years ago, it was all about pace - it was the fashion that you had to bowl in excess of 85mph or else you weren't considered for selection. Thankfully that is no longer the case, with Vernon Philander being the prime example that the wicket column is how you will be judged.
Like Philander, Woakes needs to make sure that his length and line are spot on and, most importantly, that he swings the ball late. If you swing it straight from the hand, it gives the batsman time to see it and react accordingly.
It might not happen right now, but there is no reason why Woakes can't become a very useful player for England in all formats of the game. His progress graph is certainly pointing in the right direction and, with his ambition and attitude, he ticks all the right boxes as far as England are concerned.
Jonny Bairstow is another young player who has come through the development programme into the England set-up and has the talent to succeed.
His innings of 95 and 54 in the third Test at Lord's were quite outstanding, especially when considering the circumstances leading up to the game, when he was brought in for Kevin Pietersen.
He proved both his temperament and mental strength is spot on and that he has a technique and method which will serve him well at the highest level as his career progresses.
I'm sure those who doubted him after the West Indies Tests, when he was accused of not being able to play the short ball, may now be reassessing their original thinking.
It's always dangerous to jump to conclusions on players who are just starting out on their international path, because the jump from domestic cricket to the top is huge.
I wrote in my BBC column straight after the Edgbaston Test against the West Indies that it may have been that Bairstow just had a bad 10 minutes facing Kemar Roach and over time we would see how he deals with the bouncers and "chin music" he was bound to encounter.
Dale Steyn and Morne Morkel certainly gave him a working over and he came through it with flying colours. He had a crystal-clear picture in his mind exactly how he was going to play and whether he was ducking and swaying out the way or hooking and pulling the ball to the boundary he was in total control.
Since my last column, Surrey have played Glamorgan in a CB40 match that was dedicated to the memory of Tom Maynard. Regardless of the result and the importance of the game, both teams should take great credit for the way they conducted themselves and remained totally professional in what were obviously very testing circumstances.
Before the game started, 25 cyclists, including Tom's father Matthew, rode into the Kia Oval after cycling down from the Swalec Stadium in Cardiff.
The reception they received when they arrived was very emotional and there were tears shed by many people.
It was obviously a sad day for everyone involved, but at the same time it was an opportunity to celebrate the short life of a very promising cricketer and of an individual who had made such a big impression on the people who were lucky enough to have known him.
The generosity in terms of the support shown and the amount of money raised for the Tom Maynard Trust so far is a credit to the Maynard family, and when tragedies like this happen the "cricket family" comes together.