Andrew Strauss's England future in doubt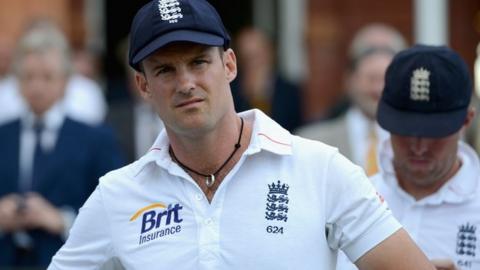 ECB news conference
Watch live on BBC Sport website, listen on BBC Radio 5 live:

Midday, Wednesday (UK users only)
The future of England captain Andrew Strauss is in doubt after cricket chiefs hastily arranged a news conference for midday on Wednesday.
Strauss, 35, pulled out of a Middlesex game early on Tuesday.
Former England skipper Alec Stewart told BBC Radio 5 live he understands Strauss will stand down as captain.
"If he has lost the passion, determination and enjoyment of leading the team then he has done the right thing," he said.
Strauss and the England and Wales Cricket Board's (ECB) managing director Hugh Morris are expected to address the media at a conference which was announced at 22:18 BST on Tuesday.
The ECB has declined to comment on the subject of the conference at Lord's.
Chief executive Giles Clarke will answer media questions this afternoon at Derbyshire County Cricket Club.
If Strauss does decide to relinquish the captaincy, one-day skipper Alastair Cook will be favourite to take over the role and Cook arrived at Lord's on Wednesday morning dressed in a suit and tie.
Strauss has come under increased media focus since becoming embroiled in the controversy surrounding Kevin Pietersen sending "provocative" text messages to South African opponents.
Pietersen scored 163 for his county Surrey at Somerset on Tuesday.
But the relationship between Strauss and Pietersen has been strained, especially since Pietersen brought his own Test future into doubt after the second Test. He was subsequently left out of the squad.
Asked if he would still be in charge for the forthcoming tour of India after the third Test against South Africa, Strauss said: "It's probably hard to answer that after the week that's just gone by. It's been a tiring week.
"We all need to sit down - myself and [team director] Andy Flower in particular - and try to map out the way forward."
Strauss is England's third most experienced leader and the second most successful behind Michael Vaughan, with a captaincy record of 24 wins in 50 matches.
The opening batsman also led the side to home and away Ashes triumphs on a run of victories that saw them crowned as the world's number one team for the first time since the rankings were introduced.
But his form has been modest in the last two years and his score of 122 against the West Indies in May was his first Test century since November 2010.
He followed up with another century, his 21st, at Trent Bridge, but averaged just 17.83 in six innings against the South Africans.
BBC cricket correspondent Jonathan Agnew believes Strauss's departure could force England to bring Pietersen back into the fold for the winter tour of India.
"Together Strauss and Andy Flower have formed a formidable partnership and as part of this crossroads you could think it would be so much better for England if Strauss would go to India," he said.
"That is a really tough tour. They go there before Christmas for four Test matches. If he does resign today it will be interesting to see what influence that has on the England set-up and Pietersen.
"If Strauss resigns and continues playing, that at least means there is some experienced batting going.
"If he resigns and doesn't carry on playing, can England go to India with three inexperienced batsman at two, five and six without Pietersen being there?"
Former England captain Allan Lamb told BBC Radio 5 live: "It would be a great loss if he decides to pack it in now."