Andrew Strauss: Highs and lows as England captain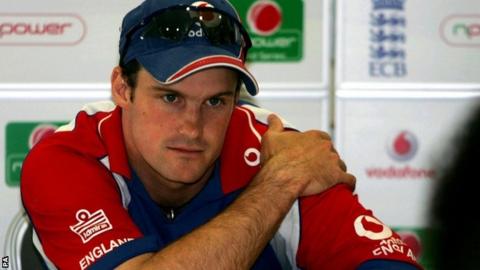 The decision of Andrew Strauss to quit professional cricket marks the end of an extraordinary three-and-a-half years as captain of England's Test team.
During his time in charge, England emerged from the chaos that followed Kevin Pietersen's resignation as skipper in January 2009 to become the world's top Test team.
But the road to the top was anything but easy for Strauss.
His reign came at a turbulent time for English cricket as controversy on and off the pitch dogged his spell as captain.
Strauss was first asked to skipper his country in the summer of 2006 following injuries to regular captain Michael Vaughan and stand-in Andrew Flintoff.
And the home series against Pakistan that year proved to be a baptism of fire for Strauss, controversy raging when the tourists were accused of ball-tampering by umpires during the fourth Test at The Oval
Pakistan initially refused to play on, so upset were they at the allegations. When they did emerge from the dressing room, they discovered that umpires Darrell Hair and Billy Doctrove had called the game off and awarded England the victory, the first time a Test has ever been won by forfeit.
Despite winning the series, Strauss lost out to Flintoff when selectors picked their captain for the Ashes tour of 2006-07.
Strauss captained England against the West Indies in 2007 and then, with England in turmoil in the wake of the sacking of coach Peter Moores and resignation of Pietersen, he took over at the start of 2009.
Handed the role for the tour of West Indies, Strauss was part of a fragile batting line-up that was bowled out for 51 in the first Test as the home side completed a comprehensive win in Kingston.
The second Test was abandoned after 10 balls because of an unfit outfield at the Sir Vivian Richards Stadium in Antigua.
But Strauss rose above the chaos to score 169, 142 and 142 in the next three Tests, cementing his place as skipper and starting a successful partnership with coach Andy Flower.
Strauss carried his good form into the 2009 Ashes on home soil and was named man of the series as England won back the urn.
The news he was being rested for the winter tour of Bangladesh because he was feeling jaded, with Alastair Cook temporarily taking over as captain, brought criticism from pundits, who felt he was being disrepectful.
When he did return for the home series with Pakistan in 2010, Strauss was faced with a new crisis.
A spot-fixing scandal quickly engulfed cricket after a newspaper investigation claimed Pakistan skipper Salman Butt and bowlers Mohammad Amir and Mohammad Asif were guilty of colluding with an agent to bowl no-balls.
Strauss found himself under suspicion at one point, angrily rejecting claims from Pakistan Cricket Board chairman Ijaz Butt that England had lost the third one-day match against Pakistan in return for money from bookmakers.
After a difficult summer, England travelled to Australia, retaining the Ashes as Strauss gained plaudits for his captaincy and his batting after moving past 6,000 Test runs in the fourth Test at Melbourne.
After his team's poor World Cup showing, he retired from one-day internationals in March 2011 to focus on Test cricket.
He lead England to a 4-0 series win over India that took his side to top of the world Test rankings and scored two centuries against the West Indies, albeit a West Indies side that lacked the bowling power of their predecessors.
Having been named England's player of the series, his form then failed him in the recent clashes against South Africa, finishing the three Tests with an average of just 17.83.
But his batting problems were overshadowed by the furore created by Pietersen's shock exile from the England team.
As talk about Pietersen dominated the headlines, a drained Strauss headed off for a holiday and spent his time thinking over his future.
On his return, the England and Wales Cricket Board announced his decision to end his professional career.