Stephen Moore column: Momentum key to winning cricket

By Stephen Moore
Lancashire and England Lions batsman
Last updated on .From the section Cricket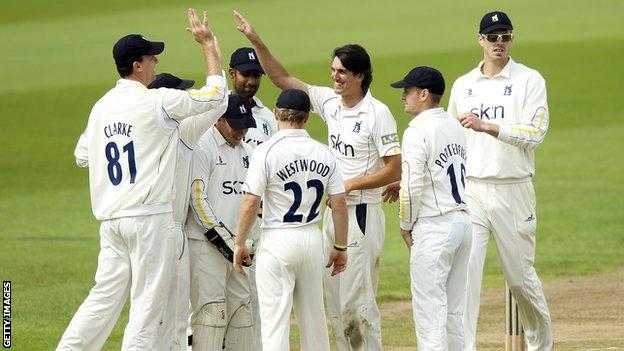 The season is coming into its final stages with two trophies yet to be decided.
Despite Saturday's semi-final defeat by Warwickshire, we have been in the unusual situation of riding high on a wave of confidence in the CB40, while fighting tooth and nail in the County Championship in a desperate attempt to avoid relegation.
All this only a year after securing the title down in Taunton. The only way to describe this stark contrast is momentum.
We started the CB40 competition well this year, which helps build positive feelings both individually and collectively.
As the competition progressed we won matches in a variety of different ways, sometimes with good performances with the bat and more recently with the ball.
All these things meant that during our preparation for each match, the atmosphere in the nets and changing room was charged with great energy.
In short, we grabbed momentum in our one-day season early and worked hard to hold on to it and build on it at the most crucial period - the end of the season - despite things not going to plan against the Bears.
This idea of momentum is not something new to us. It is exactly what we achieved last year in the Championship.
We won five of our first six matches, and from there we used our strong team spirit to maintain our disciplines and push for success until the final session on the final day of the season.
Our contrasting fortunes this season has shown us two things. Firstly, the line between success and failure in top level sport is so small, that it is often very hard even for seasoned professionals, to always be able to distinguish when or why things are going wrong.
Secondly, momentum is a powerful ally for teams and individuals. When you have it, it is very hard for others to take it from you. If you are in search of it, it can become a very elusive enemy.
It cannot be ignored that the weather this summer has been incredibly frustrating for everyone, and it has definitely contributed to the results so far.
We won 10 matches last summer to lift the trophy. Warwickshire, this year's likely winners, are probably going to win six or seven at best.
Despite the erratic weather, the reason they are sitting on top of the table is because they grabbed the initiative early in the season and have been consistent in preventing opposition from snatching their momentum away.
This is always a challenging time of the season, but it is also the most rewarding. All the months of hard work build to possibly just a few hours of pressure in order to win some silverware for your club.
Not only has it been a big week in county cricket, but another chapter in English cricket history has come to a close.
Andrew Strauss must be very proud of his career, and if he needed any vindication for his decision to retire, the cricket fraternity's reaction speaks volumes.
It is every professional cricketer's dream to bow out on their own terms, and Andrew fully deserves all the praise that comes his way.
It is exciting times in English cricket, and if the next three years can be as productive as the last, that number one ranking will surely be ours again.
You can follow Stephen Moore on Twitter at: http://twitter.com/stephen_moore6 (external site)