Brian Rose moving on to help Somerset progress
Last updated on .From the section Cricket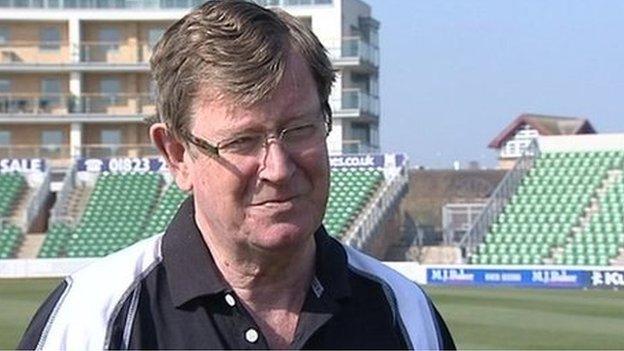 Brian Rose says he is quitting as Somerset's director of cricket because the club needs to move forward.
"I don't want to spoil it for future years," he told BBC Somerset. "I see too many people have bitter regrets because they stay on too long.
"I've reached the mental stage where I knew the time was right."
He continued: "A new character and a push into the first team is what we need.
"I don't think I've got the ability to do that, and I'm sure everyone at the club would agree."
As a player, Rose spent his entire 18-year career at Taunton, amassing over 13,000 first-class runs, and captained the club during their most successful period.
He came in as director of cricket in 2005 and brought immediate success in the Twenty20 Cup, and followed it up two years later by leading them to promotion to Division One.
But in recent years Somerset have become known as the nearly-men of county cricket, having been runners-up on six occasions in the T20, CB40 and Division One.
They were knocked out of the T20 by Hampshire in the semi-final stage this year, and Rose says: "I was really disappointed with our performance at the Swalec stadium - it was deja vu.
"I'd been finding myself repeating to coaches in terms of what we had to do in finals.
"As a club and an individual you have to think 'where is this club going?'.'"
Although he was unable to bring in the silverware they craved, Rose has had a huge impact on Somerset's successful youth system.
Jos Buttler and Craig Kieswetter, now England internationals, along with James Hildreth have all flourished under Rose's leadership, while youngsters Craig Meschede, Jamie and Craig Overton and Alex Barrow have all broken into the first team.
Rose will continue working in youth development when he leaves his current role, and he hopes to bring through many more hopefuls.
"From the day I started we had a policy that I'd spend 50% of my time with the first team and the rest of my time watching second team cricket or going scouting, wearing my hat and sunglasses," he quipped.
"You can survive a cycle if you've got good players but if that cycle finishes and you've not got a supply of young cricketers, your club is going to die."
Rose concluded: "The biggest pride I've got is watching Somerset compete at every level from under-11s to the first team. There's been a transformation in how the cricket team operate and hopefully that's the biggest legacy.
"Perhaps someone else can take it on and improve it. It's been a great trip for me. I'll go with sadness but also with a lot of memories, both as a player and a director."