Hampshire chairman Rod Bransgrove joy at Ageas Bowl deal
Last updated on .From the section Cricket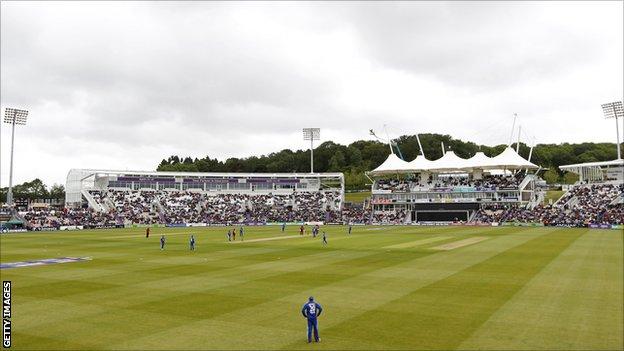 Hampshire chairman Rod Bransgrove says work will begin on Monday on the £38.5m redevelopment of the Ageas Bowl.
The revamp will include the construction of a four-star hotel, conferencing and hospitality facilities as well as a new media centre.
Work is due to be completed in time for England's next Test Match at The Ageas Bowl against India in 2014.
"The builders start on Monday, that's how tight it got," Bransgrove told BBC Radio Solent.
Negotiations between Rose Bowl PLC, parent company of The Ageas Bowl, and Eastleigh Borough Council have been ongoing for several years.
But an agreement was finally struck on Thursday to approve the redevelopment and Bransgrove admits at times he thought it would never happen.
"There were a lot of parties involved and there were a lot of negotiations involved. It's central government money so everything has been done absolutely correctly," he said.
"There have been times when I thought it was getting too complex and too difficult. Eastleigh Borough Council have always been under pressure because they are the subject of public scrutiny.
"They have always known that but I think we've always known this is a good deal for both parties and we are both very committed to it.
"It was a very difficult negotiation. It was a very unusual transaction, there was no template for it so we've had to invent the wheel as it were.
"Sometimes it's been tedious and it's been very long but it is a necessity to make sure public funds are being properly monitored and appropriated."
Certain elements such as the media centre are expected to be available for use in the 2013 cricket season before India arrive in 2014.