Murray Goodwin saddened by his 'sudden' departure from Sussex
Last updated on .From the section Cricket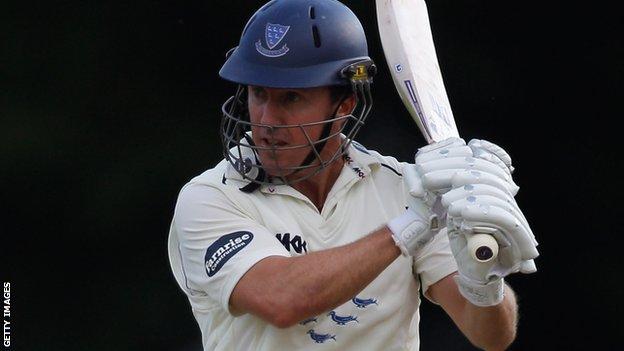 Veteran Sussex batsman Murray Goodwin says he would have liked the chance to extend his 12-year stay at Hove.
"It has been brought forward a bit hastily in my opinion," Goodwin told BBC Sussex. "But that's the decision of the powers-that-be.
"It's all too sudden for me. When you still feel that you are still good enough to be in the XI, let alone not be in the squad, it's disappointing."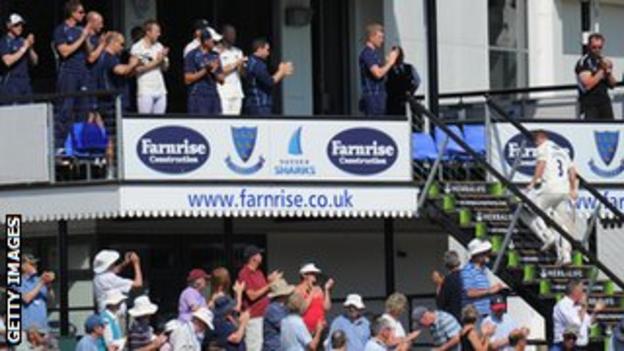 Goodwin clocked up 48 centuries during his spell with Sussex, making more than 14,500 first-class runs for the county, winning seven trophies in the process.
"It's been a brilliant era," he added.
"To be able to be involved in the all the Championships, the one-dayers and the Twenty20, I'm very privileged.
"That's why it's so sad when I still feel I have got a lot to offer."
Goodwin made 77 in his final innings at Hove on Thursday, receiving a standing ovation as he made his way back to the pavilion.
"It was really humbling to have so many people acknowledge what you have done," he said.
"I am extremely humbled by the fact the club have thought highly of me enough to retire my number.
"I never dreamed that would happen. It was something I didn't expect, along with the ovation.
Goodwin, who is based in Australia over the winter, says he is unsure of where his future lies as he believes he still has much more to offer.
"I'm still enjoying my cricket, so I don't want to stop playing," he continued.
"I've got to make some big decisions.
"If I get some offers from other counties, then I've got to make the decision whether I'm going to travel over from Australia again for another couple of years.
"That's what I think I've got in me. I'm still playing all forms of the game and still doing well - this season wasn't so well in four-day cricket but one-day cricket was good. I'll just wait and see."