Essex coach Paul Grayson rues end of county season
Last updated on .From the section Cricket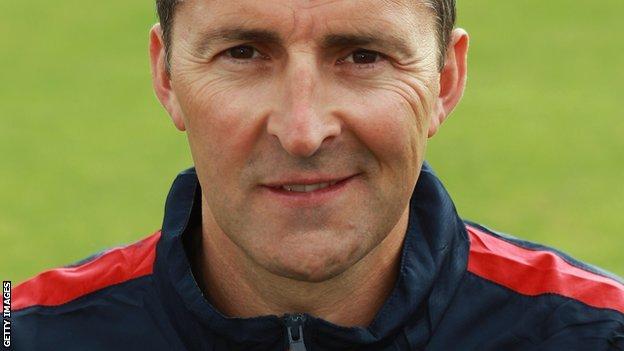 Essex head coach Paul Grayson is sorry the county season is coming to end with his side running into top form.
His side play host to promotion-chasing Yorkshire this week, with their own hopes of top-flight cricket next summer already ended.
"The team is playing and functioning well," said Grayson.
"There is a lot of confidence around our place at the minute, it's just a pity that we haven't got three or four matches to go."
Essex beat Hampshire by 122 runs last week but lie fifth in the Division two table, primarily because 10 of their 15 games have ended in draws, many of them because of bad weather.
"We turned in a very efficient performance against Hampshire and we are playing very well as a unit at the moment," added Grayson.
"Despite missing our senior and leading bowler [David Masters], we still managed to bowl Hampshire out twice to win the game and everyone in the squad stepped up to make important contributions.
"If we can start next season in the same manner that we've finished this season, then that should give everyone a lot of confidence about having a successful time in 2013."
Grayson's view was echoed by Owais Shah, the side's senior batsman, who told the club website: "We've been in really good form in these last four or five weeks in championship cricket.
"You can't control when you hit your straps but I think if we can get into the mindset that we are in right now earlier next season, it might help us achieve the high standards that we have set ourselves."