Murray Goodwin's magic moments at Sussex
Last updated on .From the section Cricket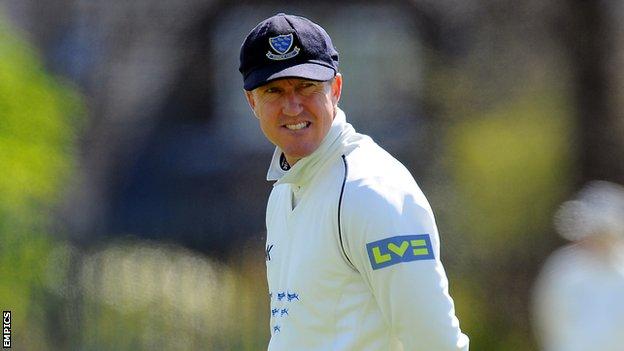 Veteran batsman Murray Goodwin is leaving Sussex at the end of the season following a 12-year stay at Hove.
The 39-year-old scored more than 14,500 first-class runs during his spell with the county and was part of a side that won seven major trophies.
Here, he talks to BBC Sussex about two of his most memorable moments from his time on the south coast.
Winning Sussex's first County Championship title in 2003
Sussex CCC began life in 1839 and the County Championship was first contested in 1890, but the club were forced to wait until 2003 to lift the title for the first time.
The side won 10 of their 16 matches that year, but needed three batting points from their match against Leicestershire at Hove to seal the trophy.
Goodwin hit the runs which secured the Championship and went on to break the county's highest individual total when scoring an unbeaten 335.
"At the start of the day we were confident we would be able to get the runs and the points to win the Championship," Goodwin recalled.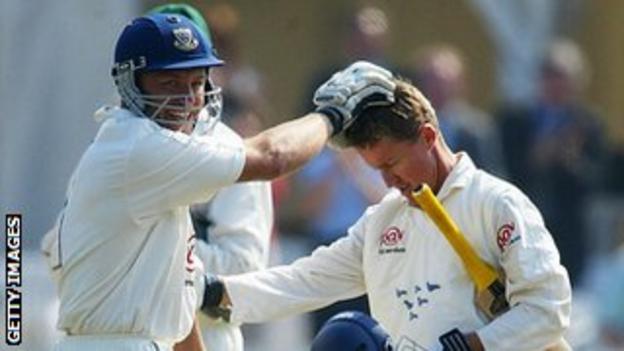 "I remember saying in the morning 'Let's all have the attitude when we bat, that we want to be there to hit the winning runs'.
"It just happened to be the way that I did it. It's a great memory.
"To be honest, I didn't know what the highest total was. I remember coming in at tea and asking if we should declare.
"[Captain] Chris Adams and [coach] Peter Moores said to keep going, get to 300 and they'll make a decision.
"I'm looking up to the pavilion all the time and they didn't say anything so I kept batting.
"I wanted to get as many runs as possible but I also wanted to win the game. There is nothing better than winning games for the club and the team.
"Mushtaq Ahmed did brilliantly that year [taking over 100 wickets] and, as a team, we made a lot of runs.
"Mushy took the majority of wickets but we had a great bowling attack with Jason Lewry, James Kirtley and Robin Martin-Jenkins chipping in.
"We had a good attack to bowl teams out twice."
Clinching the Pro40 in 2008 with a six off the last ball
Nottinghamshire set Sussex a target of 227 to win the Pro40 Division One title in 2008.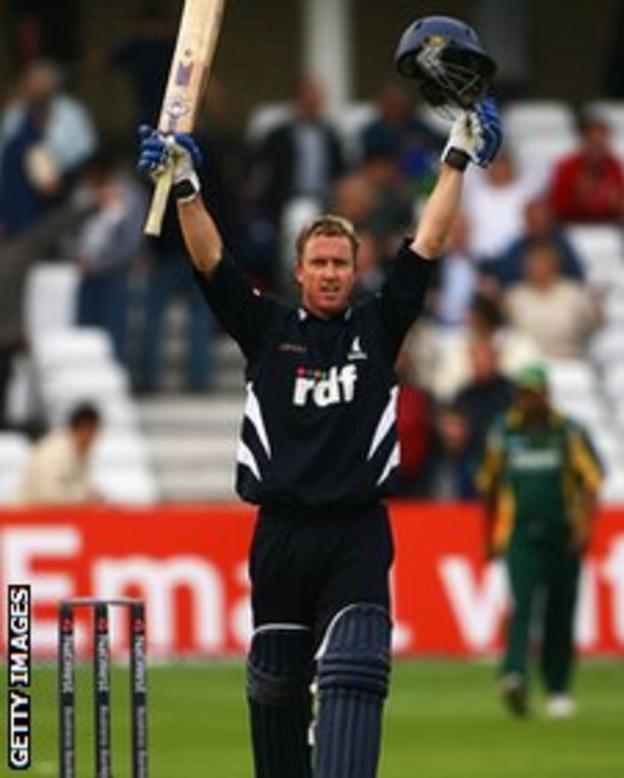 Goodwin hit an unbeaten 87 from 64 balls, with the Zimbabwean sharing a stand of 99 with Mohammad Sami for the eighth wicket.
"We needed three runs to tie or four to win off the last ball," Goodwin said.
"I just remember trying to read the bowler's lips. Mohammad Sami was trying to talk to me and I kept saying to him to be quiet.
"The bowler and Chris Read, the Nottinghamshire captain, were having a discussion of what field they should have and where he should bowl.
"Fortunately I read it right that he'd bowl a wide yorker to the long boundary.
"I stepped across towards off stump and back into my crease to make it more of a half-volley and managed to hit it over mid-on.
"I didn't actually strike it as well as I could have, but fortunately it went for six. It was a brilliant era.
"To be involved in all the Championships, the one-dayers and the Twenty20 Cup win [in 2009], I feel very privileged."