Coach Karl Krikken proud of Derbyshire season
Last updated on .From the section Cricket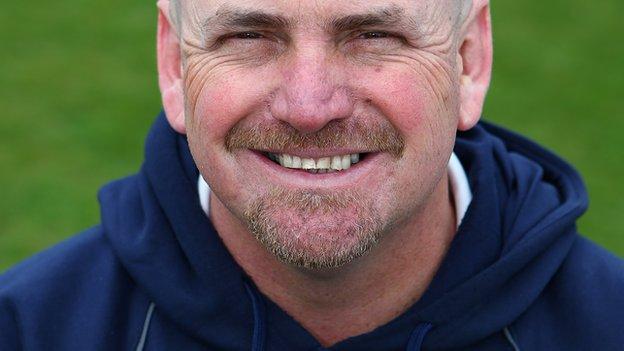 Coach Karl Krikken insists Derbyshire can be proud of their season even if they miss out on promotion to Division One of the County Championship.
Derbyshire top Division Two going in to their final match against Hampshire and need only to match the return of Yorkshire or Kent to secure promotion.
"Whatever happens we've gone from strength to strength," Krikken told BBC Radio Derby.
"We weren't on the bookies' map and have played some magnificent cricket."
Derbyshire are a point ahead of Yorkshire who are away against Essex, and six points clear of Kent who are away against Glamorgan.
Krikken added: "We have come from nowhere really.
"We are a very tight-knit group. The players have total belief in each other. We have one hell of a side and regardless of how we go in this game I am sure we will be a decent side in years to come.
"We are a young side with only one guy over 30 in Wes Durston and that augers well because it could be here for a number of years. If it grows together we could be stronger and stronger.
"We have had a lot of belief in these players over the past 18 months. They are a very, very good side. We always felt we had half a chance of being where we are, and to actually be here now with a chance of winning it is magnificent."
Krikken believes home advantage against Hampshire could also be crucial.
"We have won most of the games at home this year," he said. "We know how the wicket plays and have done really well this year.
"We have chased things down in adversity and set targets other sides haven't got.
"Hampshire are a very strong outfit and they will end up fourth, but we will be ready for them."
You can listen to live BBC Radio Derby commentary from the final game of the season by following this link.