Middlesex's return to top tier pleases Angus Fraser
Last updated on .From the section Cricket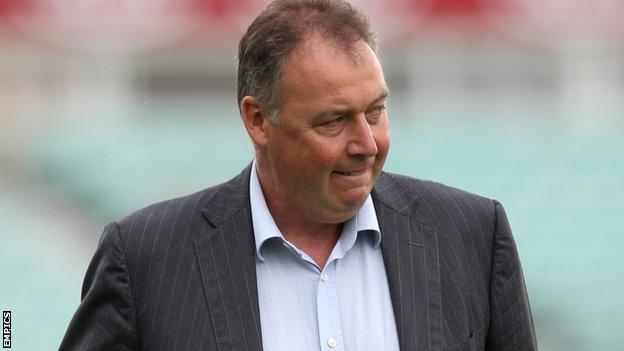 Middlesex managing director of cricket Angus Fraser has been pleased with their return to the top tier.
The side sit second in the County Championship table with one round of matches left to be completed.
He told BBC London 94.9: "We have come a long way. We've got a good group of young players that are getting better all the time and growing in confidence.
"It was our goal to make a positive impression on the division and show people we deserve to be here."
He added: I think we've achieved that. To be in second place at the end of your games is satisfying and rewarding.
"There were a few people that tipped us to go down at the start of the season.
"We've not been out-played by any side which we met. It's a season that we look back on and say we did well but we could have done even better."
Fraser says that the challenge for Middlesex, who won the Division Two title last season, is to keep improving next year.
"We spoke to the team in the dressing room [after the win against Lancashire] and congratulated them and thanked them," he continued.
"The challenge for us is to come back next year a stronger and better side and one which can maintain a challenge at the top of the division for longer than we have done.
"It takes you a little while to learn exactly what to do in some of the tense situations.
"Hopefully we will be a challenging the likes of Warwickshire for the title in years to come."