Abdur Rehman: Somerset coach hails nine-wicket haul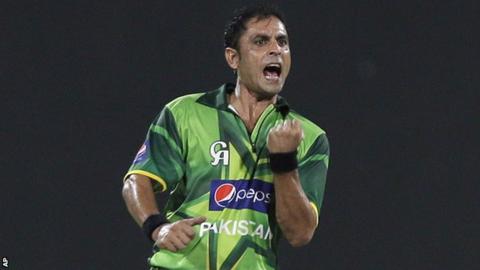 Somerset coach Andy Hurry has praised the efforts of Pakistan spinner Abdur Rehman, after he took nine wickets against Worcestershire.
On the first day of the final match of the season, Rehman finished with career-best figures of 9-65 as the relegated visitors scored 212.
"It doesn't come as much of a surprise to us," Hurry told BBC Somerset.
"Abdur has been here a number of weeks now and has been performing extraordinarily well."
Hurry continued: "He kept chipping away and asking questions. He had one chance dropped at slip so he could have had all 10.
"To mark the last day of the season with nine is an incredible individual achievement."
Rehman, who has played in 17 Tests for his country, agreed to join the Taunton outfit as their overseas player on 1 July, but was not able to make his debut until 7 August, in the four-day game against Nottinghamshire, because of delays with his visa.
He has since appeared in three first-class matches for Somerset and three CB40 games, taking a total of 31 wickets.
But Hurry has been most impressed with his attitude off the field: "One of the most amazing contributions he's made is his character in the changing room.
"He's really gelled the team together and has been a great ambassador for Pakistan cricket."
And the club are now planning to mark his feat with a presentation of the match ball.
"The match umpire gave him the ball but I grabbed it off him straight away. I wanted to do something special for him," revealed Hurry.
"We're going to get it mounted and engraved and present it to him on the last day of the match. We'll also thank him for being an outstanding contributor to our season."