Cricketers urged to complete online depression tutorials
Last updated on .From the section Cricket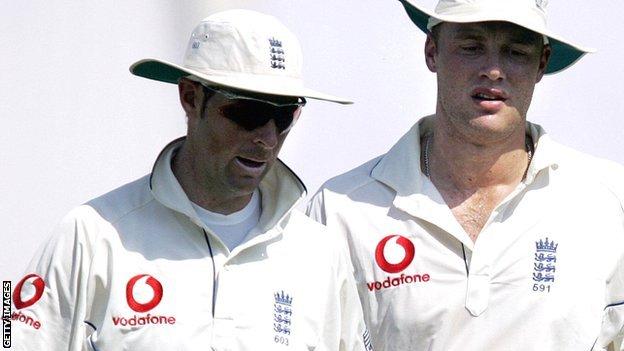 All county cricketers are being encouraged to complete a series of online tutorials in a move aimed at raising awareness of depression.
Created by the Professional Cricketers' Association, the tutorials aim to help players identify key warning signs.
High-profile England internationals who have experienced depression, including Marcus Trescothick, present segments of the video.
The PCA says it will help affected players gain any support they need.
The initiative's launch has been deliberately timed to coincide with the end of the domestic season.
This time of the year is considered a ''risk period'' as players adapt to life outside the daily routine and environment of their county clubs.
PCA assistant chief executive Jason Ratcliffe said: "Cricket has one of the highest suicide rates in sport.
"We ran an addictive behaviour initiative at each county for current professionals four years ago. The Mind Matters tutorials are a refresher of that content."
The online material tackles the stigma surrounding depression with specific sections on alcohol and drugs, gambling, anxiety, self-harm and how best to seek help.
It aims to enable players to recognise problems before they get out of hand, with the PCA promising to attend ''within hours'' if contacted by a player who is having suicidal thoughts.
Personal development managers are already provided by the union to help players plan and prepare for the future.
Every current player has received a personal development plan this summer, with the idea being that they will be adapted over time as their circumstances change.
A study in 2001 found that English cricketers were almost twice as likely to take their own lives as the average male - and they have a suicide rate higher than players of any other sport.
Mike Yardy, who returned home from an England tour with a bout of depression, and Tim Ambrose, who has been a sufferer of depression for some time, also feature in the videos.
After Trescothick's autobiography, Coming Back To Me, offered a groundbreaking account of living with anxiety and depression, several other players came forward to talk about their experiences.
Darren Cousins, who had a nine-year career including spells at Essex and Northants, revealed that he attempted suicide in 2011 after retiring from the sport.
"There's no doubt I found the loss of cricket and everything about it hard to cope with, but accepting the PCA's help was key to my recovery and where I am now," he said.
"That's my message: recognise your feelings and your state of mind and reach for help or accept the offers of help."
Although not mandatory, the PCA hopes that all players, including those who are now retired, will take a look at the online tutorials.
There is concern players still do not recognise physical symptoms like ''feeling under the weather'', which can be early signs of clinical depression.