Has Twenty20 changed cricket?

By Mark Ramprakash
Former England batsman
Last updated on .From the section Cricket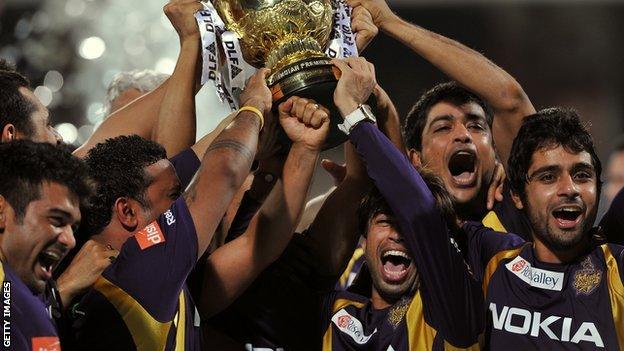 Cricket has been my life.
I was 17 when I played my first match for Middlesex. By 21, I had been selected to play for England. It was a dream come true.
But in July of this year, I announced my retirement. I felt it was time to make way for the next generation of players, many of whom are now brought up on Twenty20 cricket.
In 2003, I was part of the Surrey team that won the first Twenty20 Cup final. Now, as the fourth ICC World Twenty20 tournament prepares to start in Sri Lanka, I have been asked by the BBC Asian Network to look at the impact this form of cricket has had on the game.
For years, we've all had to accept that the domestic four-day County Championship has been making a financial loss.
Counties are funded by the England and Wales Cricket Board (ECB), which makes its money by playing international cricket and through sponsorship, television deals and advertising.
The larger counties then boost their funds by hosting Test cricket and one-day internationals.
It was the ECB that came up with Twenty20 as a way of getting crowds back to domestic cricket. Each team bowls only 20 overs, so the game is completed in around three hours.
"Just over 10 years ago, I think the ECB executives certainly had conversations around Twenty20 cricket and what it could potentially do," said Steve Elworthy, ECB director of marketing and communications.
"Fan research was conducted and, ultimately, from a county point of view, Twenty20 cricket was born from that consumer research."
These days, playing Twenty20 is a vital part of the game, both in terms of popularity and financial gain. Clubs like Yorkshire and Leicestershire say 70% of their domestic revenue is now generated by this format.
"When T20 started, everyone took it quite lightly as a bit of fun, whereas over the years it's become a very big event and there's a lot of prize money at stake now," said Yorkshire director of cricket Martyn Moxon.
"T20 has been the saviour of cricket in some ways. I don't think there's any doubt in my mind that T20 is funding the county game."
I have a lot of sympathy for young players desperately trying to get the balance right between the adrenaline-fuelled Twenty20 and then need for patience and discipline in the four-day game.
I also believe that playing County Championship and Test cricket is the only way a player can develop all the skills needed.
This might sound a bit far-fetched, but I believe there's a possibility future cricketers will not play Test cricket for their country and will instead go on to play only the shorter format. If young players only gravitate to Twenty20 instead of Tests, then it will be a sad day for cricket.
Rahul Dravid, one of the greatest batsmen the world has seen, said it is becoming harder to attract large crowds to Test cricket in his native India.
"In terms of attracting people to the grounds, it is getting quite difficult," the former India captain told the BBC Asian Network.
"I think there is still a following for Test cricket in India, but the challenge is now is attracting people to the grounds."
So if a country like India is struggling to pull in crowds for Test cricket, should this be a warning to England?
Twenty20 has, without a doubt, sharpened the skills of players, but the financial rewards of tournaments like the Indian Premier League (IPL) have changed the whole landscape of cricket.
Some international players prefer to play in the IPL rather than Test cricket simply because of the money available.
Cricket boards around the world have to deal with the reality that certain players, such as England batsman Kevin Pietersen and West Indies star Chris Gayle, want to play in the IPL.
In Gayle's case, he has missed numerous Tests to play in the IPL.
The ECB is walking a tightrope. It is trying to preserve the integrity of the England team by ensuring it is at full strength. However, whether it likes it or not, more and more players will want to be released to take part in the IPL because that is where the power and money lies.
In England, we are fortunate that Test cricket and one-day internationals are still pulling in the crowds. This, in turn, is providing valuable income for the counties.
Because it makes money, Twenty20 has a huge role to play in the future of the game, but we have already seen that too much T20 can be counterproductive.
"When we started to increase the number of Twenty20 home matches, we were getting about the same income in, but more matches meant extra cost," said Leicestershire chief executive Mike Siddall.
"We have to play sufficient Twenty20 games in order to make money for counties but be careful not to flood the market so that people are turned off by too many games. "
Twenty20 plays a big part in cricket and is vital to the health of the sport. I know players still feel they are judged on their first-class and Test abilities as, ultimately, it is in that arena their skills are tested to the fullest.
At the end of the day, I want T20 and Test cricket to co-exist. There's room for both as they provide great entertainment and theatre.
Additional reporting by Perminder Khatkar.
"Twenty20, Cricket's Biggest Hit", presented by Mark Ramprakash, was broadcast on the BBC Asian Network on Monday 17 September from 18:00 BST - you can listen again via the BBC iPlayer.