Alex Gidman to stand down as Gloucestershire captain
Last updated on .From the section Cricket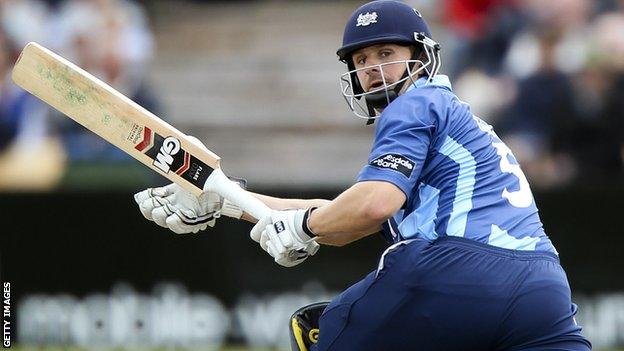 Gloucestershire batsman Alex Gidman has decided to step down as captain for next season.
Gidman's announcement comes after the county finished bottom of the Division Two standings.
The 31-year-old has been at Nevil Road since 2001, amassing 8,779 first-class runs, and has skippered the side for the past four seasons.
"I haven't been enjoying the role as much as I had been doing," Gidman told BBC Radio Bristol.
"I'm a firm believer that when you stop enjoying something you need to address the reasons why and look for a change.
"I lost a little bit of the motivation to do things off the pitch."
Gidman, who is in his benefit year at Gloucestershire, had already relinquished his captaincy duties in this year's T20 competition, opting to hand the responsibility to New Zealander Hamish Marshall.
He continued: "It will be nice to spend some time reflecting on my own game rather than everyone else's.
"Captaincy takes up a huge amount of time off the pitch so now I've got time to focus on individual performance and be a leader in a different way.
"I'll probably feel like I can offer more off the pitch now that I'm not captain.
"I think I can be a bit more ruthless and help the youngsters even more. We need plenty of leaders around the dressing room and I think I've got more to offer as the years go on.
"It's the right decision and I'm looking forward to the next year."
Gidman went on to reveal the Gloucestershire board were hoping to hand the captaincy over to an overseas players for next year's campaign.
"It's a really strong move by the club," he added.
"I don't know who that person is going to be but I'm looking forward to working with whoever it may be."