Yorkshire promotion delights chairman Colin Graves
Last updated on .From the section Cricket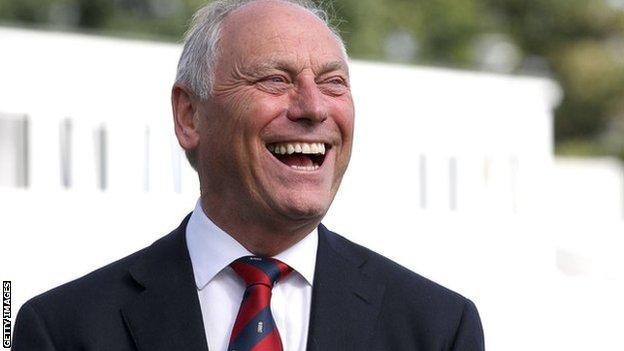 Yorkshire executive chairman Colin Graves has called his side's promotion back to Division One of the County Championship "fantastic".
"It's been fantastic," he told BBC Radio Leeds.
"If someone had told me in March that this is what we'd achieve then I'd have been delighted to take that."
He had labelled the side "a disgrace" last September after they suffered a surprise relegation.
Former Australian bowler Jason Gillespie was brought in as head coach and Graves praised the impact that he and the rest of the coaching team have had.
"I think a year ago, if you look back to where we were then, there were a lot of disappointed people, we really didn't see it coming," he added.
"The big thing this year is we responded to what happened and the players have shown their ability, so I'm pleased for them and the coaching has been a breath of fresh air."
Having returned to the top flight after a one-year absence, Graves is confident Yorkshire have the players to cope in the higher division.
Home-grown players Jonny Bairstow, Joe Root and Azeem Rafiq had strong seasons and he is keen for the side to stick with the same core.
"We've talked about it already and there's some depth in the squad," he continued
"We're always looking but we won't do it at the expense of players that we've brought through.
"From our point of view we know next season will be harder but I believe we have the resources to do well."