Lancashire chief executive Jim Cumbes to retire at end of year
Last updated on .From the section Cricket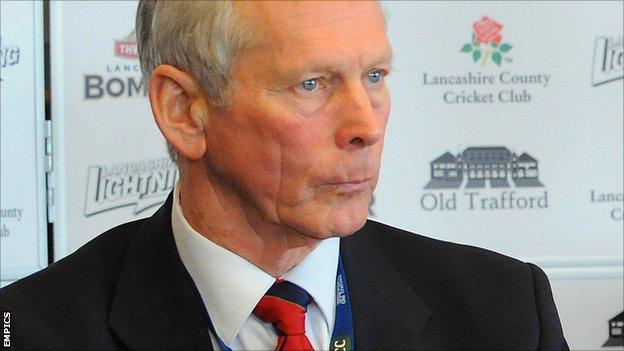 Jim Cumbes is to retire at the end of 2012 after 14 years as chief executive with Lancashire, who have appointed Daniel Gidney as his successor.
Cumbes, 68, who joined Lancashire as a player in 1962, has worked at the club in various roles for the last 25 years.
He has overseen the multi-million pound development at Old Trafford, which is due for completion next year.
"We're nearly there with that so we decided that it was time for a change," Cumbes told BBC Radio Manchester.
"I've gone three years longer than the normal retirement age anyway, but that's largely because of the development we've had going on."
Chairman Michael Cairns added: "Everybody connected with Lancashire owes a tremendous amount of gratitude to Jim.
"Jim was a key member of the team throughout what has been a monumental period for the club, which saw us ultimately overcome a number of potentially devastating hurdles to be in the position where we are today - having a world-class stadium, club and business that we can all be proud of."
Gidney has been chief executive at the Ricoh Arena - home of League One football club Coventry City - since 2006 and was part of the team that won a bid to bring part of the Olympic football tournament to the city.
"Daniel is a very capable and well-qualified guy," said Cumbes. "He's got a sporting background and I think he'll be the perfect fit."