Alan Butcher charged with rejuvenating Zimbabwe cricket
By Chris Jones
BBC Sport in Hambantota
Last updated on .From the section Cricket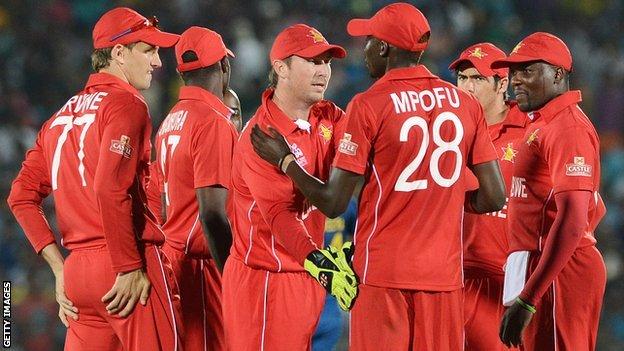 It is 20 years since Zimbabwe shocked England at the 1992 cricket World Cup - and the African nation's short cricketing history has been marked by a string of significant highs and crushing lows.
After a five-year period from 2006 to 2011, when they were exiled from Test cricket, it is down to former Surrey and Glamorgan opener Alan Butcher as the man tasked with rejuvenating Zimbabwe cricket.
Butcher - who made one Test appearance for England - took the Zimbabwe job in April 2010, with his first main challenge overseeing that return to Test cricket.
It proved to be a victorious one, with Zimbabwe beating Bangladesh by 130 runs in a one-off Test in Harare.
"The fact that we came back and won that one and made it difficult against Pakistan and New Zealand in Zimbabwe suggests things are moving forward," Butcher told BBC Sport.
Coaching Zimbabwe comes with its problems - not least a severe lack of money, which makes organising tours to major cricketing nations difficult.
"Like the rest of the world, Zimbabwe is going through an economic crisis, so finances to resource cricket are difficult to come by," Butcher added.
"We have a few series planned over the next six months, but unfortunately we've just lost one against Pakistan, which was scheduled for the new year.
"India have offered them a tour and we couldn't compete with the money that was available."
It means his players are deprived of priceless experience, which was evident in Tuesday's thrashing at the hands of Sri Lanka.
Butcher added: "It would definitely help if we played more cricket, especially overseas in different conditions. It's very difficult to get on a roll, while the learning curve of the players keeps getting interrupted.
"We don't play very often unless we come to World Cups. We definitely need to play more cricket and that will help the process of improving the side, although we should have given a better account of ourselves than we did against Sri Lanka."
Butcher is confident the talent pool in Zimbabwe is as good as it has ever been.
"The player base is bigger than it ever was before. There's a lot of talent among the black Zimbabweans who have really taken to the game.
"Providing the right decisions are made there is a bright future. I think that in a period of time if we can find enough finances and the right development processes we can become a good side."
Butcher also says that he is able to coach the team the way he wants, without an excessive amount of interference from board level and beyond.
"In any work there is always some interference from up above but by and large I've been able to do the job the way I want.
"There is no suggestion of racial quotas and we pick what we think is the best side, which is how it should be. Beyond the frustrations of not having enough money, it's not been that difficult."
It is an adventure he does not want to end.
"I've really enjoyed it. I enjoy Harare, I enjoy the country and I enjoy the people. I've looked on it as a bit of an adventure, I wasn't quite sure what I was going to, and I still feel good about it. My wife always says I'm happier living overseas. My contract runs out in March and I can see myself staying around for longer. But we need some results to put a case forward - that starts against South Africa."