Kent keeper Geraint Jones keen to extend playing career
Last updated on .From the section Cricket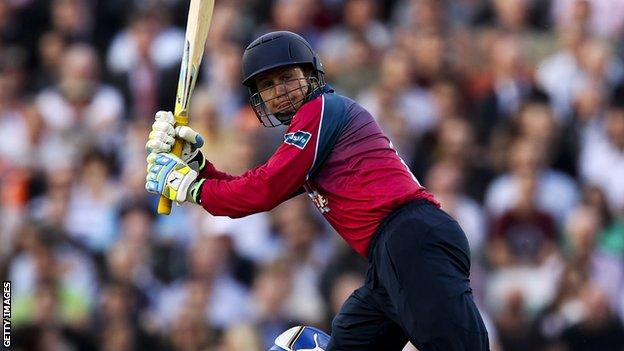 Kent wicketkeeper Geraint Jones says he wants to continue playing until he is at least 40 years old.
Jones, 36, signed a one-year contract at the St Lawrence Ground last week and has the possibility of extending the deal until the end of 2014.
"I'd like to think I've got the physicality and ability to get to the 40 mark," he told BBC Radio Kent.
"That's four years off. I still love playing the game and that's why I want to keep playing as long as I can."
He added: "I always knew I wanted to play as long as I could at Kent. I didn't want to go anywhere."
Jones enjoyed a successful season at Canterbury, striking seven fifties in the County Championship and averaging 152 in the CB40.
His place was put under pressure after the emergence of young wicketkeeper-batsman Sam Billings, who scored the most runs for Kent in one-day cricket in 2012.
"It's made me aware of my game," Jones continued. "Competition for places is a fantastic thing.
"He's still not the finished article and that's where I come into it. I think I've got some good cricket ahead of me.
"I was really happy with my performances this year. The partnerships I've been involved in has pleased me most."
Kent's season, the first under new coach Jimmy Adams, was been a case of so near but yet so far.
The Spitfires missed out on the knockout stages in the CB40 on games won and were three points off making the FL t20 quarters finals.
Kent missed out on promotion from Division Two of the County Championship with a defeat by Glamorgan in the final game of the season.
Jones has urged the club to invest resources in bolstering the bowling attack in order to mount a bid for promotion in 2013.
"I'd like us to scour the country for some more bowling depth," said the 2005 Ashes winner.
"By the end of the year, Stevens, Davies and Shreck were just running on empty.
"That would be my challenge to the powers that be of Kent. Find some more bowling."