Women's World T20 cricket: England have 'every chance'

By Laura Marsh
England all-rounder
Last updated on .From the section Cricket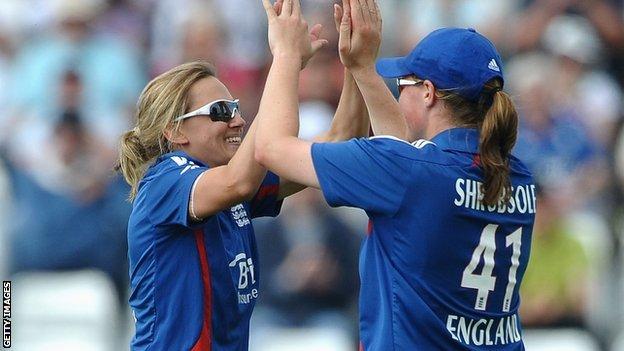 It's two o'clock in the morning and jet lag has got the better of me. The same can't be said for my room-mate, who is snoring her head off.
In the last three weeks we have had some excellent preparation, a five-match Twenty20 international series against West Indies and two games against Pakistan.
Winning six of those seven games, we have produced some brilliant performances, and the most pleasing thing is everybody has contributed and looks to be in good form.
Our two fast bowlers Katherine Brunt and Anya Shrubsole are firing well. The extra pace they have, which makes them quicker than most in world cricket, will give us an added advantage here in Sri Lanka, where the pitches often offer less movement.
Our pace-off-the-ball options are extremely encouraging as well.
All of our spinners have shown in recent games that they are worth their place in our Twenty20 side and with all of us offering something slightly different, I think our spin bowling unit will be a massive factor out here in sub-continent conditions.
From a batting perspective we are looking in good shape. Sarah Taylor, who was recently named as the ICC's Twenty20 cricketer of the year and was also player of the series against West Indies, is a high quality match-winner in our side.
Her talent is beyond many on the world stage, and she is getting better and better every time she plays.
Our batting line-up is experienced in this format and I am excited about the brand of cricket we have established over the last few years.
We bat deep into our order and there are many potential match-winners who could do the job for us throughout this competition.
We had a great first training session and we can't wait to get going. The conditions here in Sri Lanka are obviously very different to home, so I believe our preparation has been key.
It will be great to get out there and hit the ground running. The last two years have all been a build-up to this competition, we have played each series as its own but always with one eye on this challenge ahead.
Also, the shorter 20-over format brings all the sides in the world closer together. I believe any side on their day has the ability to win this competition, so every game is its own hurdle to the finish line.
We must make sure we hit every game with the confidence and belief we have shown in recent times, and I am sure if we do this we have every chance of winning.
Having won our warm-up game on Saturday against South Africa, we're heading down to Galle where our group matches take place against Pakistan, India and Australia.
Now whilst it's been great to get this column down on paper, I must try and get back to sleep!