World T20 cricket: England captain Stuart Broad defends team
Last updated on .From the section Cricket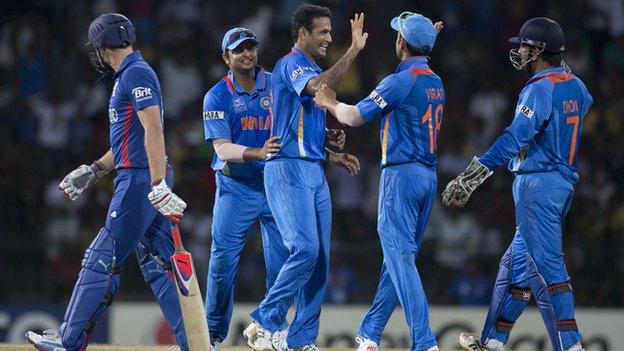 Captain Stuart Broad claimed England's batsmen do not have a weakness against spin bowling despite their collapse against India at the World Twenty20.
"We just played particularly badly. I've seen the guys play spin extremely well, certainly in training," he said.
"We've had a really bad day but it doesn't affect our destiny."
England's huge win over Afghanistan in their opening match of the tournament meant they had already secured their place in the Super Eights, and they opted to make a change for Sunday's match in Colombo.
Pace bowler Tim Bresnan came in for Samit Patel, leaving sole spinner, Graeme Swann, as the only England bowler to concede fewer than eight runs per over in India's total of 170-4.
"We wanted to have a look at a different balance of side," Broad told BBC Sport.
"We've seen the wickets in Sri Lanka have offered a bit for the seamers and we can't be too disappointed at conceding 170 on this ground."
In reply, England lost Alex Hales to an ugly slog in the first over and then spinners Harbhajan Singh and Piyush Chawla took control with combined figures of 6-25.
"Our error today was we lost early wickets," said Broad. "Spinners always enjoy bowling to new batsmen.
"We talked the other day how well we hit straight and hard. Today to lose the first couple of wickets across the line was a bit disappointing.
"But you learn from your mistakes, and we'll certainly bear that in mind when we come across a wicket like that again.
England are next in action on Thursday against West Indies or Ireland, who play for a place in the Super Eights on Monday, with Sri Lanka and New Zealand also waiting in Group E.
"Hopefully we'll perform better in the games that matter coming up," added Broad. "We'll still get on the bus to Kandy tomorrow, but we wanted to put a better performance in than that.
"I don't think the guys' confidence will take too much of a knock from this. It doesn't change where we go.
"We still need to play well on Thursday and I think we can do that."
Broad's opposite number Mahendra Dhoni sympathised with England's difficulties in the subcontinent and said he expected them to improve.
"It is something that is a bit new and different to them," he said. "In the subcontinent, at times when it starts turning the ball really stops - so you have to be really careful when playing those drives.
"It is a bit different, compared with England. But they are a very good side that has done really well in the last year. So you will see them adapt to conditions and get better in the future."
India advance to Group F, where they will join Australia, South Africa and Pakistan or Bangladesh.