World T20 cricket: Controversy at men's & women's pay divide
Last updated on .From the section Cricket129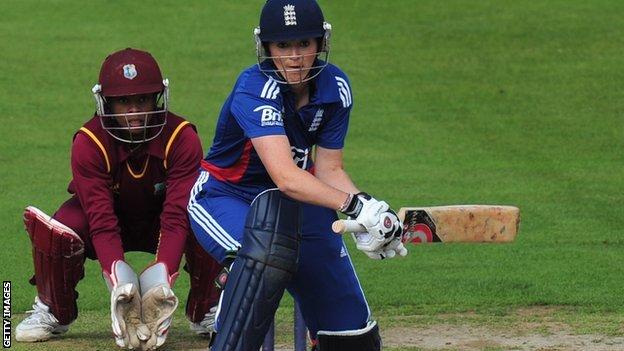 World Twenty20 chiefs must re-examine giving women players a third less daily living allowance than men, England captain Charlotte Edwards has said.
The men receive £61 per day during the tournament for food and living costs, the women £37.
"This is something to look at after the event. I'm sure the ICC will do that," she told the BBC.
The BBC's Alison Mitchell also reports that women were flown out by the ICC in economy class, the men in business.
Prize money is also higher for men, which the ICC puts down to the reduced revenue from - and lower budget for - the women's game.
"Our focus is on the cricket at the moment and not on how much money we get. It is possibly something that needs to be looked at after the event," Edwards said.
She added that £37 is "quite enough to live on", adding: "We're eating well. Obviously the guys must have a bigger appetite than the women."
In terms of tournament prize money, the winning men's team will take home £616,000, with £40,000 going to the women.
Jodie Fields, captain of defending champions Australia, said her team are just happy to be in Sri Lanka and believed they were well looked after by the ICC and Cricket Australia.
Of the prize money disparity, former England captain Alec Stewart, said: "As much as I'm in favour of promoting cricket, you have to look at what brings in the money. Do the TV companies pay all this money to watch the women or the men?
"I don't see it being a problem with the men's being a full-time game, up against a part-time game.
"I'm a fan of women's cricket and I want to see it promoted but it's a part-time sport around the world.
"Whether it's right or wrong, the facts are that the money that is generated for the game comes from the men's side."
The women's tournament begins on Wednesday and is being played alongside the men's for the third time, with semi-finals and finals being double-header matches in Colombo.
The men's tournament began on 18 September.