Robert Croft understands James Harris's Glamorgan exit
Last updated on .From the section Cricket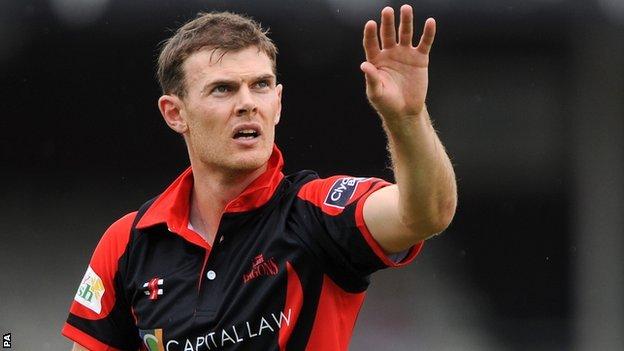 Robert Croft says he fully understands James Harris's decision to leave Glamorgan but believes his departure is a huge blow for the Welsh county.
The 22-year-old believes his move to the County Championship Division One side will provide tougher competition to prove his England credentials.
"I can see his reasons for leaving," said Croft.
"He's a hugely ambitious lad and he believes playing for England is going to be easier from a team in the First Division and it's going to be more difficult playing for a team in the Second Division.
"Good luck to him and I just hope in the future we'll see him in Glamorgan colours again."
Harris had said he needed to leave Glamorgan, who gave him his first-class debut as a 16-year-old in 2007, to further his ambitions of playing for England.
He was recently selected in the England Performance Programme squad to tour India in November.
The England Lions player, who had a clause in his contract allowing him to leave if Glamorgan were not in the top tier, had also been offered a deal by Nottinghamshire and was courted by several other clubs.
Croft says Harris's departure is a blow to a Glamorgan side who endured a disappointing 2012 season.
"It is a huge blow, there's no doubt about it," said Croft, who recently announced his retirement after a 23-year playing career.
"He's a young man and he could have played for Glamorgan for a long time. Also his talent is unquestionable.
"Even as a young man he was showing the quick bowlers how to bowl on different surfaces."