World T20 cricket: Steven Finn ruling upsets New Zealand
Last updated on .From the section Cricket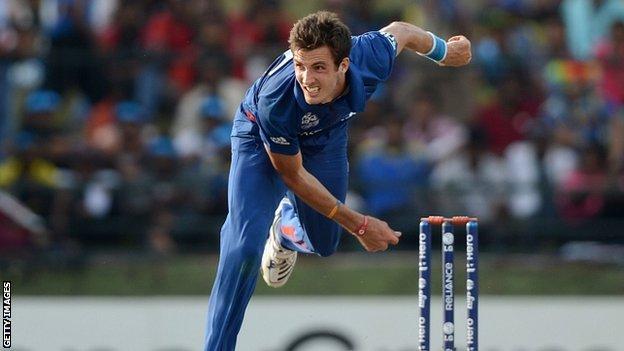 New Zealand captain Ross Taylor claimed his side were robbed of vital runs by Steven Finn's habit of accidentally breaking the stumps while bowling.
The fast bowler took 3-16 to help England beat New Zealand by six wickets in the World Twenty20 Super Eights.
A wide and a boundary were called dead balls after Finn dislodged the bails.
"It's a rule for one person. Unless the batsman gets out you should just carry on. If the batsman gets out it should be a dead ball," said Taylor.
England captain Stuart Broad did not support Taylor's suggestion, but conceded that Finn needed to sort the problem out.
"The main point is that Finny's got to try and stop doing it. And he's working hard on it," said Broad.
"I don't know where it's come from. It's not as though it's been a problem all along. It came about this summer when he jumped in a little bit in his action.
"He's aware of the problem and David Saker [England's bowling coach] is pulling out whatever hair he has left working the problem out."
The problem first became an issue during the summer's Test series against South Africa when captain Graeme Smith was caught behind off Finn, only for the ball to be declared a dead ball after the Proteas captain complained.
Finn took the key wickets of Brendon McCullum, the all-time leading scorer in international Twenty20 cricket, and Taylor to finish with the best figures by an England bowler in any World Twenty20 match.
Luke Wright smashed 76 from 43 balls, including five sixes, and Eoin Morgan made 30 to steer England to a victory that keeps alive their hopes of defending their title.
England face hosts Sri Lanka in Pallekele in their final Super Eights match on Sunday with their future uncertain.
With all four teams still in with a a chance of reaching the semi-finals, England could win but still go out on net run rate or lose but still progress.
"We've had some really good positives today and there's room for improvement as well so if we can find that perfect performance we'll be really really hard to stop," Broad told BBC Sport.
"We know it's going to be an electric atmosphere in the ground. You can't hear yourself think when the Sri Lankans are playing so it's about keeping out composure. It will be a great experience for the guys. Let's just hope it's a winning experience."
Wright, who was named man of the match, said: "I think the nice thing was New Zealand threw quite a bit of spin at us and we managed to play that well.
"Going into the next game it gives us a bit of confidence to win like this. It's always going to be a tough match but I think we've given ourselves a good chance now."