World T20 cricket: Pakistan board monitors T20 team
By Nitin Srivastava
BBC Hindi, Colombo
Last updated on .From the section Cricket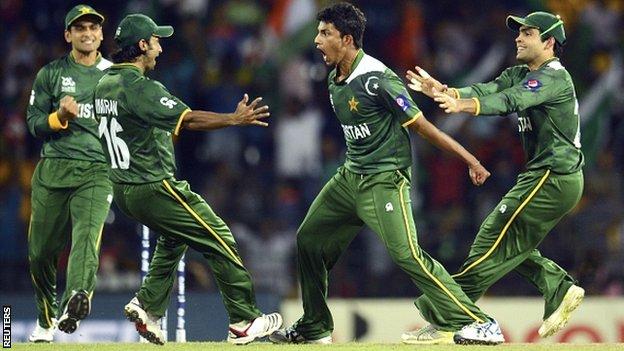 Pakistan's Twenty20 team are being monitored by their cricket board in Sri Lanka to avoid a spot-fixing scandal.
Salman Butt, Mohammad Asif and Mohammad Amir were for bowling deliberate no balls in a Test match.
"No player is allowed to meet any suspicious or unknown person on the tour," said Pakistan Cricket Board chairman Muhammad Zaka Ashraf.
"We have constituted a security wing in Pakistan to monitor daily reports sent by officers accompanying the team."
Butt, Asif and Amir were found guilty of corruption during the fourth Test between Pakistan and England at Lord's in August 2010.
Former captain Butt received a 10-year ban, five suspended, Asif seven years - two suspended - and Amir five.
The trio were later sentenced at Southwark Crown Court to prison terms which have all now been served.
In the meantime, Pakistan's cricket authorities have increased their efforts to ensure there is no repeat of such incidents.
Coach Dav Whatmore and his T20 squad have not been interacting with supporters in their hotel in Sri Lanka or at net practice sessions.
They are also refusing to speak to anyone without the permission of Pakistan's media manager.
The side are performing impressively - they sit second in Group 2 of the Super Eights stage ahead of Tuesday's meeting with Australia.
Ashraf added: "There is a curfew hour for players in the evening. One can see the results. The team has been doing quite well."