World T20 cricket: Shane Watson - Australia's star turn
By Chris Jones
BBC Sport in Colombo
Last updated on .From the section Cricket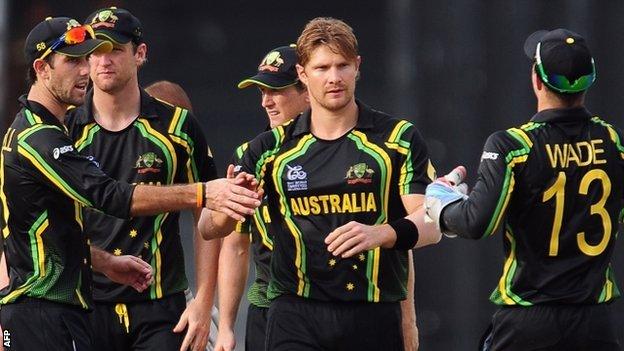 The fact that Australia go into the semi-finals of the World Twenty20 as one of the favourites to lift the trophy is largely down to one man: Shane Watson.
Despite a rare failure in five matches he has scored 242 runs at an average of over 60 and a strike-rate of 154 - hitting 15 sixes in the process - and has also chipped in with 11 wickets, many of them crucial.
Although Mike Hussey was Australia's outstanding performer on Tuesday, Watson's hitting in the first four matches was instrumental in raising Australia's net run rate, which eventually proved significant.
So what is behind this purple patch? He says being in good physical shape has been as important as any technical improvements.
"I suppose I have worked on a few technical things," he told BBC Sport. "But also having five weeks off and being able to do some different strength and fitness work - to be able to get myself in a position to stay on the park for a period of time - which helps you build momentum as a player."
Forrmer Australia captain Ian Chappell believes Watson has developed into a batsman of the highest class.
"He's been in good form all tournament, but the innings against South Africa was the best I've seen from him," Chappell told BBC Sport.
"His footwork was really sharp, and at the moment the bowler runs in knowing that if he misses his spot by the smallest margin, it's gone. And that's quite frightening, even for the best bowlers."
Dirk Nannes played alongside Watson for Australia, and says his form is making it near impossible for opposition bowlers.
"Someone like Watson is one of a kind, a special player," Nannes told Test Match Special. "He's in a rare vein of form that even the best players only get in every so often. He is in a period where he just doesn't get out.
"No ground seems big enough for him at the moment. He's almost got this baseball set-up and a bowler feels he's always coming at you ready to biff it into the stands."
Watson made his international debut back in 2002, but it is only in the last few years that he has been able to hold down a regular place in the Australia side across all forms of the game.
Nannes puts this down to a change of mindset: "Playing cricket was all he used to live for, but now he's got a bit more outside the game. As a result he's a lot more relaxed in the changing room and is far less intense."
However, despite being one of the leading batsmen in the world in limited-overs cricket - ranked 12th in ODIs and 3rd in T20s - Watson is outside the top 30 in the Test rankings, with an average of 37 from 35 matches.
Only two centuries to go with 18 half-centuries point to problems building a long innings, something Watson is working to correct.
"There have been a few things I know I have to improve in my Test cricket," he said. "Batting-wise, to bat for longer periods of time, and, bowling-wise, to stay fit."
With back-to-back Ashes series coming up in the next 18 months, the Australia selectors have been considering the best way to use Watson in the longer form of the game, with suggestions he might drop back down the order to number six and play as a genuine all-rounder.
"He's a dominant player, and has been for some time," said Chappell. "I can't believe Australia are not going to open the batting with him.
"Watson and David Warner are the ideal opening combination in any form of the game. They would be making a huge mistake splitting them up, but I think they will in Test cricket.
"To me he's an opening Test batsman and I wouldn't be bowling him too much as I wouldn't want to detract from his batting."
Watson is highly regarded in the Australia camp, with coach Mickey Arthur confident he can emulate the great Test players.
It is understood that Watson is also being considered as a number three - with David Warner and Ed Cowan as possible openers - but, whatever his role, he is determined to be a key part of Australia's attempt to win back the Ashes next year.
"There's a fair bit I need to improve to hopefully have some kind of impact on those Ashes that are coming up, because they mean the world to us in Australia as I know they do in England," he said.