World T20 cricket: India's Yuvraj Singh cherishes return to game
By Chris Jones
BBC Sport in Colombo
Last updated on .From the section Cricket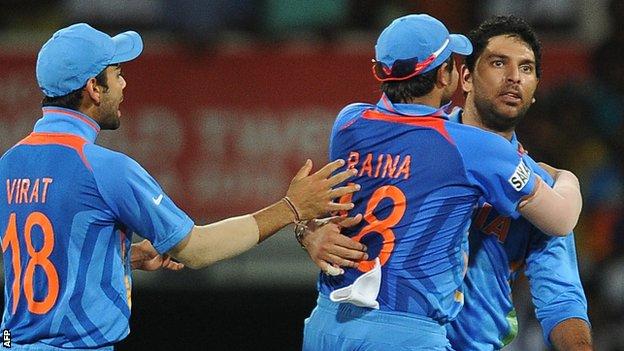 Yuvraj Singh dedicated his match award to all those affected by cancer after starring in in the World Twenty20.
Victory in Colombo was not enough to take India into the semi-finals, but Yuvraj, 30, has had an emotional return to international cricket after battling cancer.
Yuvraj made 21 off 15 balls before taking 2-23.
"I never thought I would get a chance to play cricket again," he said.
Yuvraj started chemotherapy in February for mediastinal seminoma, a growth between the lungs.
He returned to action last month in the build-up to the World Twenty20, after a period of recovery following three months of treatment in the United States.
"At that point, it was more important for me to save my life," he told BBC Sport.
"Once I knew I could save my life, I always wanted to come back and play and represent my country. It's a huge honour for me. It's like a second coming.
"Thanks to [the] Almighty and the people of India who really prayed for me. I would like to dedicate my man-of-the-match award to all the cancer survivors and the people that are going through it."
Yuvraj said he is pleased to be contributing on his return to the side.
"It's important for me to play well in those middle overs," he said. "Unfortunately I couldn't make enough runs for the team, but came good with the bowling.
"Hopefully, as my body gets more time, I get fitter by the day and I can improve in all departments.
"It's been great. I've enjoyed every moment of my time being on the field. I'm just happy about it, but disappointed we didn't make the semis."
Pakistan meet hosts Sri Lanka in the first of the semi-finals on Thursday, before West Indies meet Australia on Friday.