Ian Saxelby: Gloucestershire fear for bowler's injury
Last updated on .From the section Cricket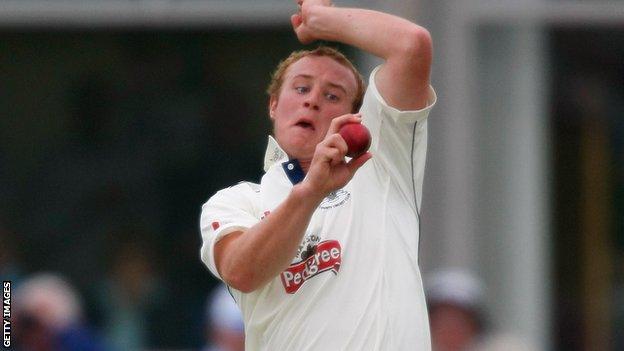 Gloucestershire director of cricket John Bracewell has admitted he is "concerned" by seamer Ian Saxelby's knee injury.
"It is a long-term concern," Bracewell told BBC Radio Bristol.
"It's something we are working on and we are going to have to manage the situation very carefully."
He continued: "It's a degenerative knee injury.
"The options are invasive surgery - to rebuild the knee - or to start work on strengthening and limit the amount of cricket he plays.
"He eventually ran out of steam in his knee because he was asked to bowl in all cricket, in all forms of the game."
Before incurring the knee problem against Hampshire in August, Saxelby was Gloucestershire's leading wicket-taker in the Championship with 35.
He has had to deal with injury troubles in the past, having missed the entire 2010 season with a serious shoulder injury, and Bracewell believes those previous experiences will help him recover from his latest set-back.
"Next year will be a watershed year for Ian," he added.
"He's already recovered from a major shoulder injury, and people didn't think he would come back. But he's extremely diligent in terms of his rehabilitation.
"If anybody has got a chance of recovering, he has."