Steven Crook leaves Middlesex to re-join Northants
Last updated on .From the section Cricket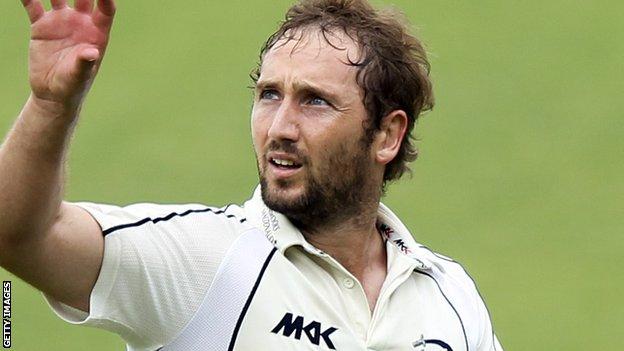 Northants have re-signed all-rounder Steven Crook from Middlesex on a two-year deal.
Australia-born Crook previously played for the club from 2005 until his departure to join Middlesex in 2010.
The 29-year-old took 47 wickets in all competitions this summer but Middlesex agreed to release him despite having 12 months left on his contract.
"I'm really looking forward to the next chapter of my career and excited about joining a talented group," he said.
Crook thanked Middlesex for a "fantastic couple of years" and added: "I must highlight (managing director) Angus Fraser for showing faith in me and his continued support for my development as a cricketer.
"My appreciation must also go to Richard Scott, Richard Johnson and Mark O'Neill for the huge impact they have made on my game."
Northants head coach David Ripley described Crook as a "proven impact player".
He continued: "He will bring multi-dimensional skills to both our red and white ball cricket.
"He is also a very popular player to have in our dressing room."
Chief executive David Smith said: "Our thanks go to Angus Fraser and Middlesex, who have reluctantly agreed to release Steven from his contract a year early, so that he can play more regular first team cricket at Northants."