Women's World T20: Laura Marsh says England can feel proud

By Laura Marsh
England all-rounder in Colombo
Last updated on .From the section Cricket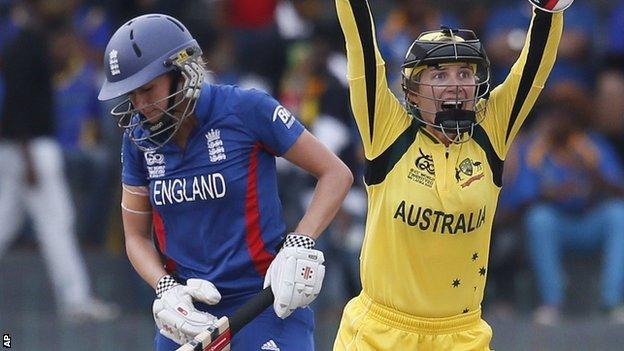 We're obviously all really disappointed not to be coming home from Sri Lanka with the ICC Women's World Twenty20 trophy, because that was our aim when we came out here to Sri Lanka.
We did brilliantly to win all our group stage games and played well in the semi-final, but we just didn't put things together in the final.
We know we have a lot to be proud of - everyone has contributed and worked incredibly hard to get to the final.
Despite not getting the result we wanted, we are grateful for all the messages of support and media coverage we have received.
The tournament has been fantastic - we've enjoyed playing the group games down in Galle and then the semi-finals and finals alongside the men's games in Colombo. We've been playing double-headers back home for a few years now and they work really well to give the women's game more exposure.
Galle was a lovely ground to play at, right by the sea with the fort in the background, and the pitches there were a bit faster - the ball came through more for the seamers, and there was less turn for the spinners.
The pitches at the R. Premadasa Stadium in Colombo were more like the traditional sub-continent wickets we'd expected, and to play there ahead of the men's games was a fantastic experience for all the girls - and with Sri Lanka reaching the men's final the atmosphere was electric.
Australia got off to a good start and, although we knew we could chase the score down, as we had in the group game against them, we didn't get off to the best start and made it hard for our lower order as we lost wickets.
Danielle Hazell did a great job and we were right in the game with it resting on the last ball. It was a great spectacle for the women's game and hopefully the final has showcased women's cricket and changed some perceptions.
We're always looking to improve the profile of the women's game, and it's getting better all the time. The double-headers are really helping that, as we've had more games on TV and radio.
We've learned a lot from playing in these conditions, and anything we can learn from this tournament may be crucial.
I'm looking forward to sleeping on the flight home because it's been a busy couple of weeks.
When we're back we'll have a short break before getting stuck into our preparations for the 50-over World Cup which will be played in India in February. As defending champions we will be giving it everything to retain our title.