Kevin Pietersen was not provoked, says South Africa manager
Last updated on .From the section Cricket35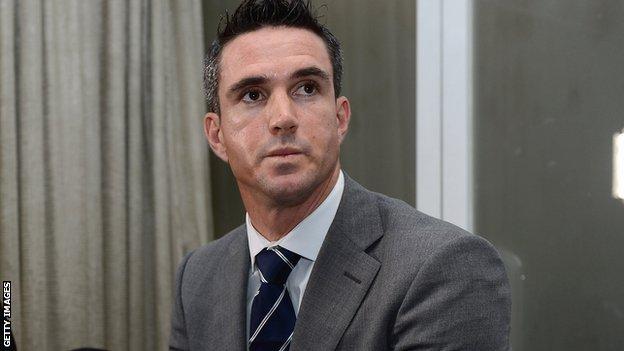 The manager of the South Africa cricket team has called claims that Kevin Pietersen was coaxed into sending provocative text messages about England team-mates "irresponsible and unfair".
"For them to turn around and get our players involved is really, really unfair," said Mohammed Moosajee.
"Kevin Pietersen knows he sent the messages to our players."
Moosajee said Cricket South Africa's acting chief executive Jacques Faul would contact Collier on Monday to explain his reasoning before issuing a statement.
Moosajee added: "The fact David hasn't had sight of those messages, for him to make insinuations that the Proteas players instigated this whole fracas is both irresponsible and unfair.
"We confirmed initially that it was all banter."
Pietersen was left out of the final Test between the two countries in August and omitted from the World Twenty20 squad and this winter's tour of India.
He allegedly sent messages to members of the opposition criticising then England captain Andrew Strauss during the second Test.
The messages were not saved to prove the exact wording, so the ECB relied on "binding assurances" from Pietersen that they were not derogatory before accepting his apology and handing him a new four-month contract.
Pietersen will now undergo a reintegration period involving face-to-face meetings to rebuild trust with the other players, and team director Andy Flower will then decide when he feels the 32-year-old batsman should return to the squad.