Sexing up key to boosting profile of women's sport - Rainford-Brent
Last updated on .From the section Cricket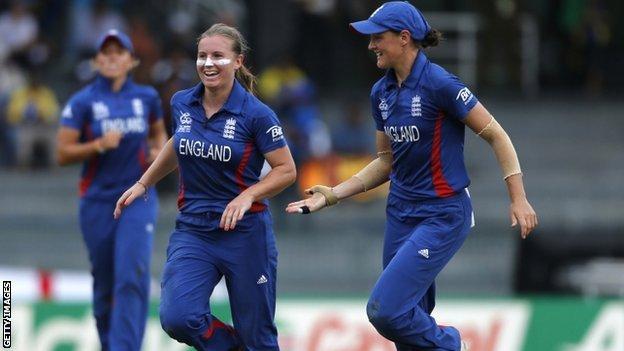 Former England cricketer Ebony Rainford-Brent believes that sexing up women's sport is key to attracting new female spectators and participants.
The England women's cricket team finished runners-up in the World Twenty20 after losing to Australia in Sunday's final in Colombo.
But Rainford-Brent told BBC Sport that more needs to be done to attract people to women's sport.
"You want women to be attracted to the sport, but sex sells," she said.
"Some of the biggest barriers for young girls playing sport is the image and being sweaty or a bit masculine, so if you can make the sport more attractive for females to play then you will attract more girls in.
"You also need females to support women's sport and you see successful sports like netball, which has a lot of female followers, and women's tennis which attract female crowds because the players look feminine, but they are very sporty.
"Women's cricket also has a good advantage in that we have very feminine looking and good players, but when we started playing we wore the England men's kit which was very baggy and heavy and didn't look great.
"Simply by tailoring the tracksuits it made the players look smarter and it does make a difference because you want to look professional and at the top of your game."
Rainford-Brent has also praised the impact of the World Twenty20 in increasing the profile of women's cricket.
"The decision of the ICC to put the women's T20 alongside the men's event is fantastic because the girls are getting the same sort of coverage in the semis and the final playing before the men," she added.
"Many people hadn't watched the women's game before and there were quite a few people impressed and would watch it again. You want as many people seeing it and to develop your own offering."