England need Kevin Pietersen to regain top spot - James Anderson
Last updated on .From the section Cricket55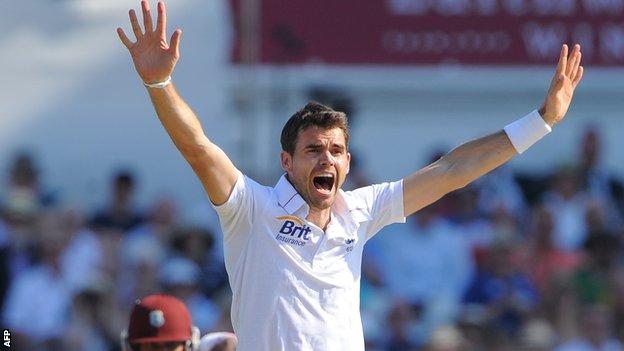 James Anderson says England need Kevin Pietersen if they are to return to the top of the Test rankings.
Anderson said: "We want to get back to number one and we need our best players to do that. Kevin is one of our best."
Pietersen's return is subject to a "reintegration" period, which Anderson joked "sounds like he is an offender being released into the community".
Team director Andy Flower will decide when the "reintegration" process is complete.
England's first Test of four against India begins in Ahmedabad on 15 November and Anderson says he would be delighted were Pietersen to be involved.
"If he is there then brilliant," he told BBC Radio 5 live.
"Hopefully we can draw a line under the whole episode and crack on with the tour of India."
Pietersen was dropped in August for sending "provocative" text messages to South African players.
He apologised to captain Andrew Strauss, and the England and Wales Cricket Board accepts the texts were not derogatory about his former skipper.
While Anderson is keen to move on from the saga, his team-mate Graeme Swann said he was disappointed about how it impacted the end of Strauss's international career.
"The biggest shame for me was that it was going to be Strauss's last Test regardless," he said.
"He is such an unbelievable servant to our game and such a brilliant captain and for him to then have his last match tarnished by the whole sorry affair is a great shame for me.
"He deserved a lot better than that in his last game."