Veteran batsman Murray Goodwin joins Glamorgan
Last updated on .From the section Cricket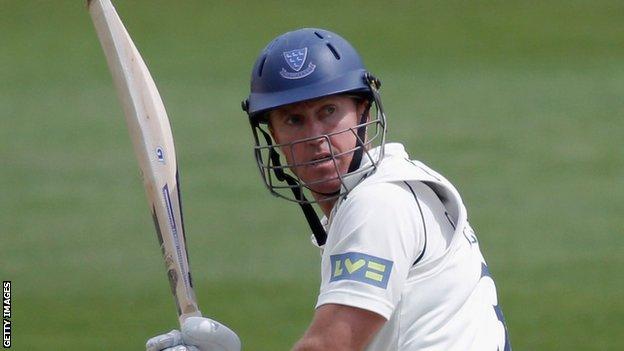 Glamorgan have signed veteran top order batsman Murray Goodwin.
The former Zimbabwean international after 12 years in September and joins the Welsh county initially on a one-year contract.
Goodwin scored more than 24,000 runs in all competitions during his Sussex stay and the 39-year-old will also help mentor Glamorgan's young batsmen.
"He will strengthen the batting line-up," said Glamorgan Head of Elite Performance Matthew Mott.
"And has plenty to offer to benefit our batting group.
"Murray has played the best part of his career at Sussex and had a massive affect on Sussex cricket, so we can't wait to have him in the squad.
"He is a really good role model with plenty of first division experience and it is evident from our recent discussions that he still has a real determination to succeed. These are characteristics that we are looking to develop within our squad."
Goodwin won seven trophies during his time at Sussex - including three County Championship crowns - and was a regular last season averaging 32 runs in the Twenty20, 26 runs in the CB40 but just 16 in first-class cricket.
Glamorgan struggled in County Championships Division Two last season, winning just three games, but Goodwin said: "I am really pleased to be continuing my cricket career with Glamorgan and look forward to joining up with the players and staff.
"I have had lengthy conversations with Matthew Mott and am aware of the challenges the team faced last year and the hard work that lies ahead of us, but I am determined to help bring success back to the Club.
"I feel I still have a lot to offer in all formats of the game."
Goodwin was a team-mate of ex- Glamorgan batsman Tony Cottey when Sussex won the County Championship for the first time in their history in 2003.
Cottey, who retired from first-class cricket in 2004, said Goodwin was one of the best players he played alongside during his career.
"Murray Goodwin's a quality acquisition for the club," Cottey told BBC Sport Wales.
"He's got a lot of international experience playing on the big stage and he's had a great career with Sussex.
"When you play that length of time he's got a lot to offer. Muzza's that kind of character. He lives and breathes cricket, that's why he's still playing at the age he is."