Ashes 2013: Australia ready to shock England - Stuart Law
By Marc Higginson
BBC Sport
Last updated on .From the section Cricket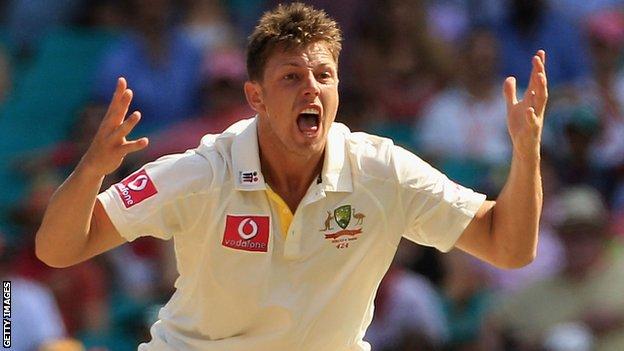 Stuart Law says Australia have one eye on regaining the Ashes from England ahead of their three-Test series with South Africa, which begins on Friday.
And Law, 43, expects Michael Clarke's side to use their growing stock of pace bowlers to unsettle England in 2013.
"England have a stranglehold on the Ashes and their bowling has been key through pace and aggression from big fellas," said ex-Australia batsman Law.
"We are trying to match them in that department."
Law, who is now a high-performance coach at Cricket Australia's Centre of Excellence, believes young pace bowlers like James Pattinson, Mitchell Starc and Pat Cummins - when he returns from injury - will complement more experienced seamers Peter Siddle and Ben Hilfenhaus.
And he is backing them to make a big impact as Australia look to win the Ashes for the first time since 2006-07.
"We have got bowlers to burn now," said Law. "They all bowl upwards of 145kmh (90mph) and stand at 6ft 4ins.
"What it will come down to, like in our forthcoming series against South Africa, is the team with the most consistent batting. If we can get a good group of batsmen together, we still have the nucleus of a strong line-up, headed by Ricky Ponting and Mike Hussey.
"People say they are too old (both are 37), but you should see the way they run around in training. They have got the bit between their teeth, they want to succeed and make sure they don't play in another losing Ashes series.
"We just need a couple of young kids to turn up and put it all together and we will have a good series."
England will be hoping one of their own experienced players, Kevin Pietersen, can counter Australia's attack, and former Essex, Lancashire and Derbyshire favourite Law says he is surprised at how quickly England patched up their differences with the batsman after he was dropped in August for sending "provocative" texts to South Africa players.
Rifts between Pietersen and his team-mates surfaced over the summer, with the Surrey player admitting to issues "in the dressing room" after scoring a century in the Headingley Test in August.
Two days after Pietersen was dropped over the texts saga, England Twenty20 captain Stuart Broad issued a statement denying any involvement in a Twitter account called KP Genius that parodied the South Africa-born batsman.
Law, who played one Test and 54 one-day internationals for his country, said the issue had become a "soap opera" as the England and Wales Cricket Board made Pietersen go through a series of meetings with administrators, England coaching staff and players before reinstating him to the team for the tour of India.
"It is amazing how one minute he is out for breaking team rules and then all of a sudden he is welcomed back with open arms," said Law.
"It doesn't quite make sense to me. Does he [Pietersen] really want to be there in the first place, after all that has been said and done?
"I know he wants to play Test cricket and the world of cricket is better for that because he is an exciting player to watch - he is box office. But with everything else that has gone on in the dressing room, I am surprised that the team have opened the doors."