Surrey bowler Gary Keedy excited by Oval challenge
Last updated on .From the section Cricket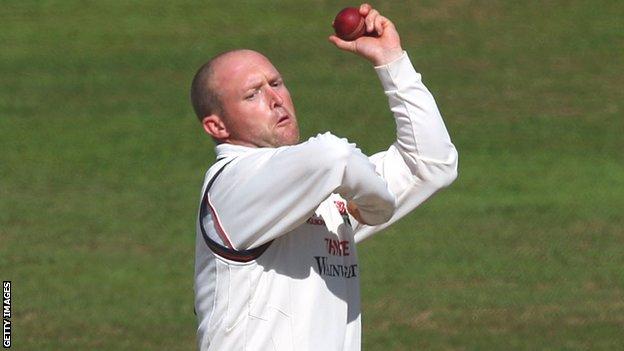 Surrey bowler Gary Keedy says he is looking forward to a new start at the Oval after 18 years with Lancashire.
The 37-year-old made his Lancashire debut in 1994 and went on to claim 656 first-class wickets before agreeing a two-year deal at Surrey.
"What's good for me coming in is that there are lads I haven't played with," Keedy told BBC London 94.9.
"Trying to get back established in the team is something I'm looking forward to, and not being taken for granted."
The left-armer, who was approached in mid-season by Warwickshire but elected to stay with Lancashire, also said he hoped to play for years to come.
"When you've been around so long you almost become part of the furniture, and go about your business unnoticed," he said.
"I've been very happy and comfy at Lancashire but that's all gone now. I'm starting afresh with Surrey.
"Some people see age as a barrier, but despite my age I'm fitter and stronger and playing better cricket than I was 10 years ago.
"I want to play well into my 40s if at all possible."
Keedy finished last season with 61 wickets as Lancashire won their first outright championship title since 1934, and he said he hoped to add to that title with his new side, and act as a mentor to younger players.
"It'd be nice to get in the starting line-up and then contribute to win some trophies," he said.
"And I'd like to fulfil a similar role as I did at Lancashire where I can offer my experience and advice to the young lads coming through."